With the needs of the modern home and the sophisticated kitchen growing, electric home grills have become one of the most important and must-have appliances in any kitchen. Although it will may not provide you with the smoked taste that you know in restaurants, but it provides you with the ability to grill all kinds of meat and even vegetables right at home, which will, for sure spice up your dinner menu.
Also, we all love barbeques, whether we are into the food or not, no one hates barbequing under the sun on a breezy spring day. An electric grill will give you the ability to have as many barbeques as you want, you can even have one every weekend if you want, because why not, you have got your own grill now!
You may think that these grills are large and will end up making a mess in your house, but on the contrary, grills have become smaller and more efficient with time, and in this article we will show you the give you a detailed review of the best electric grills 2020 has to offer!
The best types of electric grill
Here you have a bouquet of the most distinctive types of electric grills, you can choose what matches your needs, uses,and budget:
Fresh Electric Grill 2000W Gray – MKG300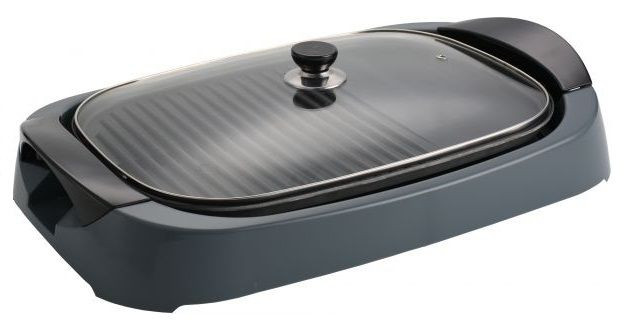 Because quality and price are the two key points to look out for while shopping for an electric grill, we recommend for you the Fresh Electric Grill, 2000W, Gray – the impressive MKG300. It is easy to clean, as its cooking surface is anti-stick, as well as usable at various temperatures depending on the type of food it is cooking.
The grill comes with a glass lid that enables you to know the cooking stages as it cooks, and you can remove or place it during grilling as desired.
Fagor Built-In Electric Grill 2400W Stainless Steel – MFE-BR.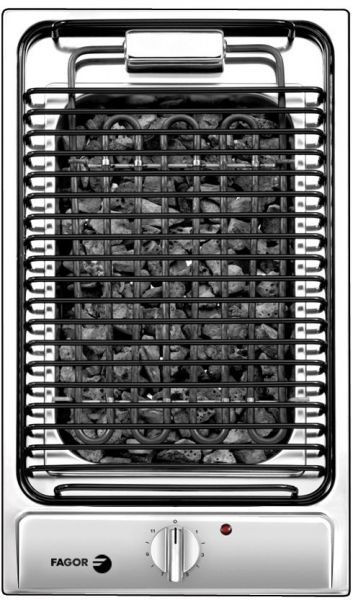 Fagor brand is famous for its outstanding quality in its home electrical products, so we recommend that you purchase the Fagor built-in electric grill, 2400 Watt, stainless steel – MFE-BR, which will enable you to prepare delicious grilled meat, steaks, chicken and vegetables in a healthier and less fatty way.
The grill is characterized by a number of properties that will be an auxiliary hand that works to remove fats. Its own, you can also dissolve the non-electrical parts in the grill, clean them by washing, and reinstall them again smoothly and easily.
Fagor – MFE-BR Metal Electric Grill is durable and reversible for its versatile use, and the grill tray is backed by in-house heating technology for fast leveling and perfect evenness distribution.
Home Electric Grill 2000W Black – KS3350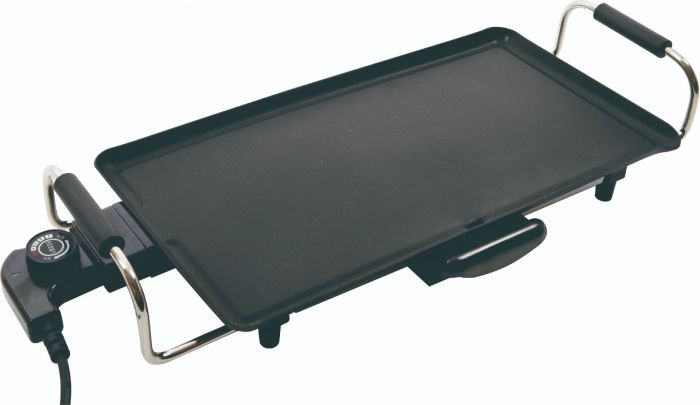 With regard to this electric grill from Home, it is small but very distinctive and characterized by a power of 2000 watts, which supports its ability to cook quickly, and for a personal experience, we recommend you as it is characterized by quality and the ideal price,
The grill will make you able to prepare delicious grilled meat and delicious chunks of meat with the lowest amount of fat you can ever find.
Home Electric Grill, 2000 Watt, Black – KS3350 has a non-stick grill surface and a distillation tray to collect fat to make the grill and the surface clean, in addition to the great ease of use and the ability to remove non-electric parts and clean them easily.
Mienta Master Grill 2200W Black – HG34109A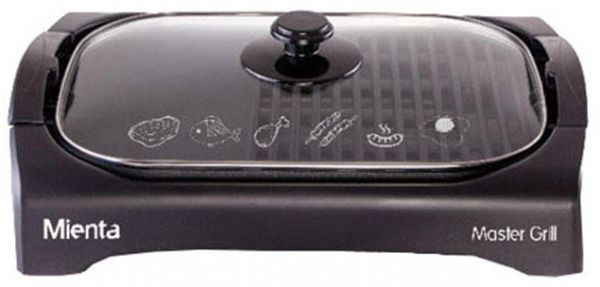 Enjoy a great barbecue experience with Mienta Master Grill, 2200W, black – HG34109A that will make you able to grill tasty steaks, chicken, fish, and vegetables for less fat. Mienta Master Grill, 2200W, Black – HG34109A comes with a grill surface that is easy to clean and can remove its glass cover for viewing and leveling level. The grill also features detachable parts for easier cleaning.
How to clean an electric grill
Grilled foods have a special great taste and give happiness and joy during preparation and eating compared to any other type of food, but always the cleaning process of the electric grill is the most difficult stage, so here is the most effective way to make your electric grill clean in three steps:
Apply two layers of foil paper (aluminum) to the grill, and cover them completely.
Heat the grill for a maximum of 30 minutes.
Open the cap and make it cool, then remove the fat using soap and water.
Now you are ready to start your grill shopping, ENJOY!