Eid Al Adha is just around the corner, and as always barbequing is a big ritual of this specific Eid in almost every house.
So if you are getting ready for Eid Al Adha, you have to keep grilling needs in mind, and at the top of which is having a good electric grill at home to allow you to enjoy barbecuing with your family at home during this Eid Holiday.
Because finding a good electric grill can be confusing due to the many options available on the market, which is why we have decided to lend you a helping hand and share with you a list of the best 5 electric grills on the market right now so you can make an informed decision at ease.
GEORGE FOREMAN 15-SERVING GGR50B ELECTRIC GRILL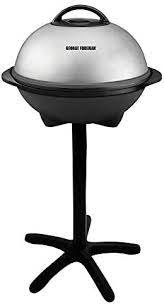 The George Foreman GG50B 15 can serve up to 15 people at a time. Whether you have indoor or outdoor space, this grill can be used easily no matter where you need it. It does not take much time to set up.
Once it's where you want it, start it up and give it about 10 minutes to heat up while you prepare your meat and vegetable dishes. This electric grill is durable, easy to clean, and no butter or oil needed. And with adjustable temperature controls and an indicator light, grilling must be done with precision.
Advantages:
The circular grilling area of ​​240 square inches allows you to serve more than 15 portions for large groups of people.
George Tong's non-stick coating is durable, easy to clean and eliminates the need for butter and oil.
Indoor/outdoor removable stand.
The temperature probe allows you to choose from five heat settings for best results.
POWERXL SMOKELESS GRILL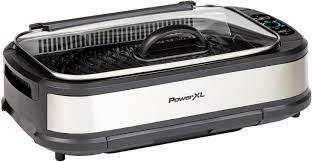 Turn up the heat in the kitchen with a smokeless indoor electric grill that lets you create classic favorites without worrying about gas, propane, or smoke. If you love to cook some steaks, burgers, or sausages on the grill in the summer and you hate it when the weather is too cold to barbeque outdoors, then this electric grill is the one for you.
Advantages:
Strong ventilation and smoke removal.
Even and continuous heating.
LED display.
Simple design.
Easy to use.
CUISINART GR-300WSP1 GRIDDLER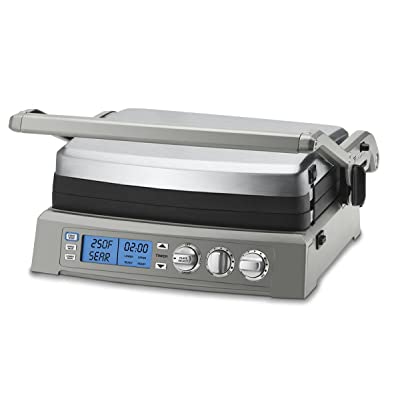 The Grindler Elite Indoor Grill from Cuisinart is one of the most versatile and flexible indoor electric grill options. The stick-on grill and reversible grill plates, along with the easily adjustable top cover, allow it to function as a contact grill, melt-top, panini press, full grill, full tray, or half hybrid half grill.
This versatility makes it a great option for small kitchens, which effectively eliminates the need for many other kitchen appliances and saves a lot of storage space. The adjustable temperature range and flexible dual temperature zones ensure that you can perfectly cook any food item with ease on this indoor electric grill.
Advantages:
Six cooking options in one: contact grill, panini press, full tray, full grill, half grill/half tray, top melt.
Grill/griddle plates are removable, reversible and non-stick.
Dual zone temperature control.
500°F for up to 2 minutes at a time.
CHAR-BROIL 17602047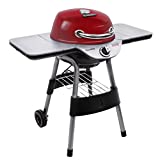 The Char-Broil Patio Bistro 240 Electric Grill is the perfect grill for those who don't want to use charcoal or gas fuel, ideal for apartments, condos, balconies and patios. Operating it is simple – just plug it into any standard 120V outlet and get to grilling.
Patio Bistro features Char-Broil TRU-InfraRed technology, for even, juicy grilling with low burning bouts and delicious results. It also features a 240-square-inch primary cooking surface over coated porcelain grates – rust-resistant and easy to clean – and 80-square-inch warming racks, perfect for sides.
Advantages:
240 square inch grilling surface with warming rack 80 square inch capacity for 8 to 12 hamburgers.
The TRU-Infrared Electric Cooking System lets you cook your food evenly with fewer cramps.
Porcelain-coated cast iron, premium cooking grates that are rust-proof and easy to clean.
Folding side shelves save a lot of work and preparation space.
Features an easy-to-use temperature control knob, storage shelf, and wire management.
KENWOOD ELECTRIC HEALTH GRILL – HG230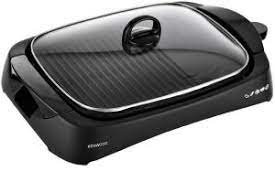 This modern grill enables you to perfectly cook steaks, fish, chicken, vegetables, and more. This Kenwood electric grill works with a power of 1700 watts and comes with a non-stick plate to put food on, and this grill has features that help give you fat and oil free food, the non-stick plate is designed in a specific way that helps in leaking juices and materials resulting from cooking into A special dish at the bottom.
And there is a transparent glass that helps in maintaining the heat and enables you to see the food while it is in the preparation stage. This grill has ergonomic handles that give you safety and ease in using this grill when it is hot. This Kenwood electric grill also gives you temperature control so that you can cook your favorite food to your liking. This grill is characterized by its large size, and the ease of cleaning the non-electric parts completely. You can even clean the base, grill, drip tray and glass lid by putting them in the dishwasher.
Advantages:
This Kenwood electric grill gives you control of the temperature.
This grill has comfortable handles that give you safety and ease in using this grill when it is hot.
This Kenwood HG230 Electric Healthy Food Grill enables you to perfectly cook steaks, fish, chicken, vegetables, and more.
Kenwood grill has a power of 1700 watts and has a non-stick coating for placing food.
The grill also helps you reduce fats and oils in your meals.
The non-stick coating is specially designed to drain the cooking juices and fat in the tray below.
This Kenwood electric grill comes with a glass lid to retain heat and so you can watch the food being cooked.
Where to shop for these grills?
Through Yajny shopping mall and its unlimited offers and deals with major e-commerce sites and online stores, you can purchase the electric grill of your barbequing dreams and save on the cost through the use of Yajny's coupons cashback deals with online stores such as Souq.com, Jumia and more.