Newspapers, international websites and even fans around the world flocked to praise the honorable participation of Mayar Sherif, the 172nd world-ranked Egyptian tennis player, in her match against Karolina Pliskova, ranked fourth in the world, in the first round of the Roland Garros tournament.
Mayar was eliminated from the competition as a result of losing 2-1 in the group stage, but remarkably, she presented a fighting performance and demonstrated a wonderful participation that highlights the training she received and the momentum of her technical staff, who prepared her brilliantly to face the second-ranked in the tournament and fourth in the world Karolina Pliskova.
What a valiant effort by #MayarSherif. The first Egyptian woman to qualify for the main draw at Roland Garros. You fought nail and tooth against a former No. 1. You've proved that you belong on the world stage amongst the best of them. Bravo Mayar! You make us proud. #tennis

— Aladeen Tawfeek (@Aladeeno) September 29, 2020
Pliskova got lucky. Mayar Sherif was amazing. What a woman! Hoping one day you'll leave jabeur behind and become the first Arab woman to reach the semis 🙂 https://t.co/D7cFFDwXSe

— M a y a n k (@mayaannkkk) September 29, 2020
It is worth noting that Mayar Sharif, 24, is the first Egyptian tennis player ever to appear in the main draw for the Grand Slam tournament.
Mayar had won the first set (7-6) before losing the next two sets (6-2) (6-4), and she had performed remarkably well during her debut in her first major tournament.
Mayar showed flexibility and talent in the last two groups despite losing (2-6) and (4-6), and won praise from her 28-year-old counterpart after the match.
Mayar Sharif became the first Egyptian tennis player to participate in the main draw for the Grand Slam tournament after beating Julia Gato Montecone in the final round of the Roland Garros qualifiers.
Mayar defeated her Italian opponent 6-1 6-3 in an hour and 19 minutes creating an honorable and historic sports victory for her country, Egypt. She became the first Egyptian girl to win a match in a Grand Slam tournament after defeating Colombian Maria Camilla Osorio Serrano 6-4 6-0 in the first round of the French Open qualifiers, and she also defeated American Katie McNally in the second round, and made headlines in the newspapers. .
Mayar, who grew up in Cairo, is the second Arab player ever to join the list of the 200 best players in the world ranking, joining Tunisian Anas Jaber.
So what did the Newspapers say about Mayar Sherif?
The British newspaper, The Guardian, praised Mayar's performance during her match against Pliskova and said: "With her spinny forehand, great movement and resourcefulness with ample drop shots, she has made life hell for Pliskova and she refused to let up even after the Czeck levelled the match. We will see more of her over the coming years and it would be great is she can inspire more Egyptian and African players to follow."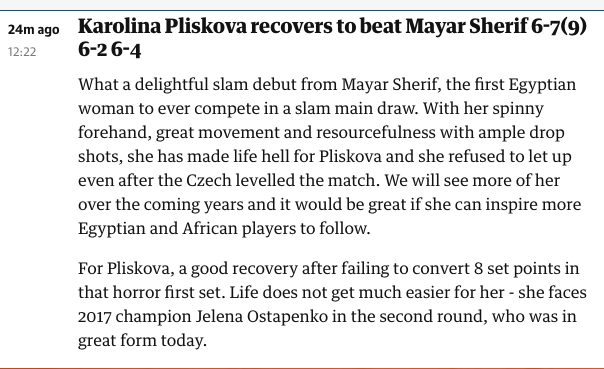 While the French magazine 'L'Equipe' Tweeted about Mayar's performance saying: "The Egyptian, 172nd in the world and the first player from her country to play a Grand Slam tournament, put Pliskova in difficulty for 2.15 hours."

As for Tennis.com, they talked about Mayar saying: "Sherif won the first set tiebreaker, 7-6 (9), after saving eight set points, the last at 8-9 with a beautifully carved backhand drop shot."

As for the official website of the Tennis Federation, they said: "Mayar Sherif gave an unforgettable performance and broke two serves for Pliskova in the first set, but that was not enough to annoy the Czech more."
Lastly, from us here at Yajny, we would like to express our pride and gratitude for the athlete and champion Mayar Sherif for giving an honorable and respectable performance and presentation of our nation in one of the world's biggest championships. To more achievements to come…