Events
It's Yajny's Anniversary, and we're bringing You some Unforgettable Anniversary Presents!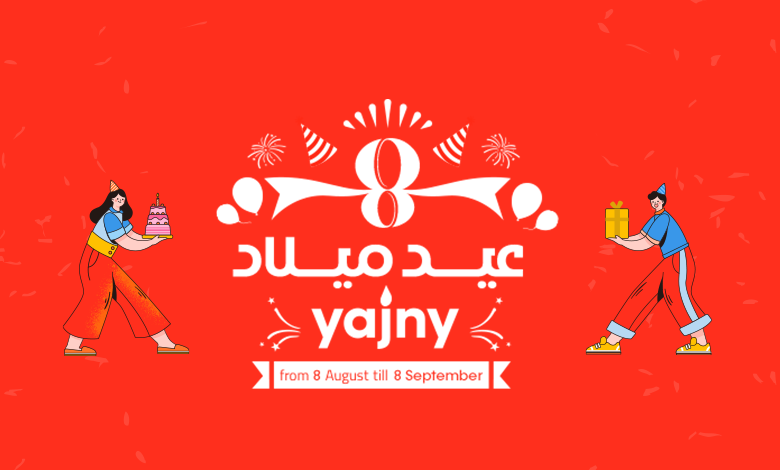 Two years ago, on August 8th, Yajny started its dedicated journey to helping people achieve their shopping goals and dreams at the lowest cost possible. And today, we celebrate not only one year passing on that beginning, but we also celebrate you, our thousands of faithful users and customers, or rather family members who are the sole reason we keep trying harder and harder to provide the most comprehensive online shopping experience out there.
And because it's you we are celebrating, we had to bring our A game, and gift with extra special anniversary presents. And naturally, one day wouldn't be enough, because what we have is a month-worth of surprises, so get ready, the thirty days from August 8th to September 8th are about to be your favorite month in the year.
Just in case you don't believe us, we have brought you today a small preview of what this month is about to bring you, so keep reading to know what is coming.
Double Cashback? Yes, PLEASE!
For starters, Yajny is giving you double cashback on almost every store on our website, which means, double the savings on every purchase you make through the Yajny app or website all throughout Yajny's anniversary month. And that's just the beginning.
Triple Cashback…Yes, we are serious!
Some of Yajny's partners are offering TRIPLE cashback on any transaction made from them through Yajny for a limited time only from August 10th to August 17th. The websites or brands offering this awesome deal are Booking.com, Trip.com, Qatar Airways, Hotels.com, Etihad Airways, Agoda, Flydubai. So if you were considering taking a trip, you couldn't pick a better time.
A Laptop
You might think we are joking, but we are really not! Yajny has collaborated with some of our partners to give you the chance at winning a Lenovo 81LK00YDED ideapad L340-15IRH Gaming Laptop, that's aside from the double cashback you are guaranteed on all purchases. So how can you get this awesome anniversary present, you ask? Be one of our top users with the highest number of purchases by making 10 or more orders with the value of at least 150$ per purchase. The stores you have to mix & match your orders from to have a chance to win the laptop are My Protein, Alibaba, iHerb, Liquid Web, Sheta & Seif, Adobe, Niceone, Banggood, Eoutlet, and 724USA.
A Smart Phone? Well, why not!
If you make at least 10 purchases from Souq.com with the minimum value of 1500 EGP per purchase, you get the chance to win an Apple iPhone 12 Pro, as well, of course, as the double cashback you get to enjoy.
That's not all, Waffarha & Yajny have cooked up something good for you too. If you buy 15 or more offers from Waffarha through Yajny with the minimum value of 500 EGP per offer, you will get the chance at winning Huawei P20 Pro Dual Sim smartphone.
An LG Screen
Aside from winning double cashback, the top users with the highest number of purchases (10 or more) with the minimum value of 1500 EGP get the chance to win a 65-inch-LG NanoCell TV.
A Smartwatch
Sports brands and stores such as Nike, Odiggo, Footlocker, Gear-Up,as well as stores such as Ubuy and Geekbuying are partnering with Yajny in honor of its anniversary to offers a few lucky winners the chance to win an Apple Smart Watch Series 3 – 42mm. All you have to do to be one of those lucky winners is make a minimum of 10 purchases with the minimum value of 150$ per order to be one of our lucky top users.
Mazaya & Faces Vouchers
We couldn't forget about all of you make-up lovers! That's why we have collaborated with stores like Brantu, Yashry, Ariika, Ricrac, and OSN Egypt to offer you the chance to win 1000 EGP Vouchers from mega make-up stores Mazaya and Faces. All you are required to do to have a chance to win is buy 5 offers from any of these stores with a minimum value of 500 EGP per order and be among our top users and possible winners of this 1000 EGP voucher.
Extra Cashback Balance
Aside from winning double cashback from almost all of our stores, you can also win extra cashback balance from some of our partner stores. Like for example, if you mix and match 10 or more orders from some of our stores such as Bath & Body Works, H&M Egypt, American Eagle Egypt, Mothercare Egypt, The Luxury Closet, Ounass, and more, you will get the chance to win 250$ extra cashback, just as long as the minimum value of each order in 100$ or more. Same goes for AliExpress, if you make 7 or more orders with the minimum value of 100$ per order, you will get the chance to win 200$ extra cashback.
This is just the beginning, if you want to be one of our lucky family member who get to receive one of our anniversary gifts, make sure to follow us intensely from August 8th to September 8th on the Website, blog, and Social Media to be the first to know about all our latest and hottest offers and deals.