Nowadays, Jeans have become the most essential item in every girl's wardrobe, and how can it not? Jeans are comfy, stylish, go with everything, and did we mention comfy? Luckily, the more important jeans get, the more versatile and different they get to meet all of our growing jeans' needs.
Every day, there are new and different styles and cuts of jeans enter the market, and subsequently, our hearts and closets. But, it can be confusing at times, naturally, with more options, comes more questions. What are the best cuts for my body, what are the most trendy, and what goes on with what? And where can I find the best jeans for me? And a lot more questions that will -hopefully- all be answered within the next few seconds.
Let's start with the 'where', if you are a regular jeans wearer, then odds are you already know that H&M is one of the best and most solid places where you can get trusted jeans at affordable prices. But what you probably didn't already know that thanks to Yajny's collaboration with H&M, you can save up even more on all your H&M purchases including jeans with H&M cashback and coupons.
H&M jeans are known worldwide for their comfortability, endurance, and trendy styles. And now, in keeping with the different cuts and styles in the market, they have become known for their various jeans cuts. Below are the best and most popular H&M jeans cuts and what body types they fit the most.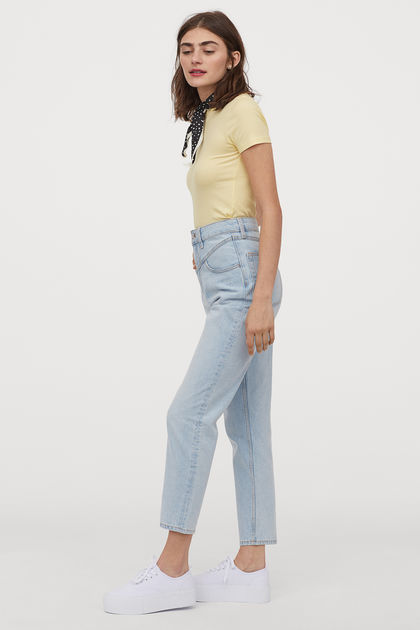 Comfy plus style equals mom jeans. And this ankle-length, five-pocket washed H&M jeans have taken your ordinary mom jeans to a whole new level. Its extra high waist and loose fit make it perfect for everyday use, while the decorative V-shaped seams at the top gives it an edge and makes it easy to style into an evening casual look.
The great thing about this particular jeans cut is that it sits on the waist, not the hips so it really goes well with all body types. However, it is especially perfect for those with hourglass figures with small waists.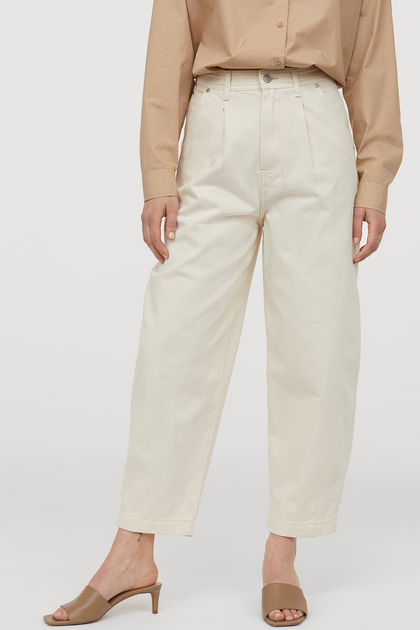 One cut that seems to be taking the market by a storm this year is the balloon cut, and we can understand why. It is extremely comfortable, wildly stylish, and can easily be the center of your whole outfit. These particular ankle-length H&M jeans have actually been proven to be a crowd's favorite for their comfy cotton denim, extra high waist, and cream color which is perfect for summer.
It is possible that this balloon cut has gained its wild popularity because it is perfect for those with an apple body shape as it allows them to draw focus from their wide shoulders by creating the illusion of a wider fuller bottom half.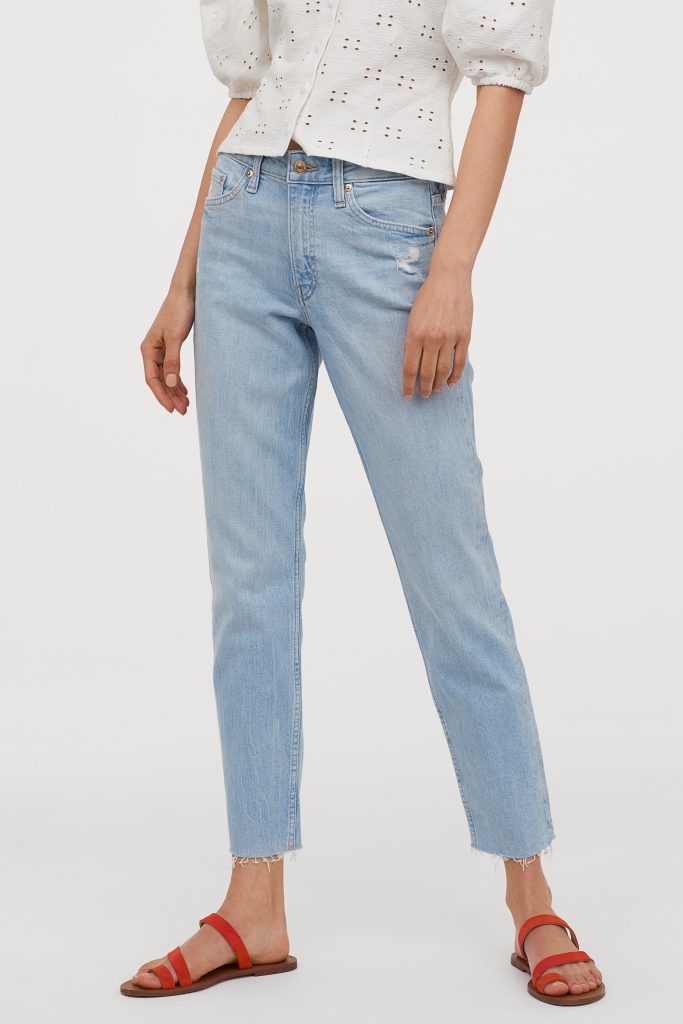 Girlfriend jeans have become a staple in every modern girl's wardrobe over the last couple of years. We know Marlene Monroe said that diamonds are a girl's best friend, but if you are a student or a working woman who spends all day out running from one place to the other, then let's face it, your girlfriend jeans are probably your actual best friend.
The good thing about these H&M girlfriend jeans is that they combine between the comfort and convenience of boyfriend jeans, and the style and femininity of skinny jeans, which makes it the most flattering and practical pair of jeans in your closet. This wildly popular cut fits all body types, shapes, and sizes, and can be styled with basically anything, but is preferably in a casual day ensemble. You can find it in different colors and sizes on H&M's online store.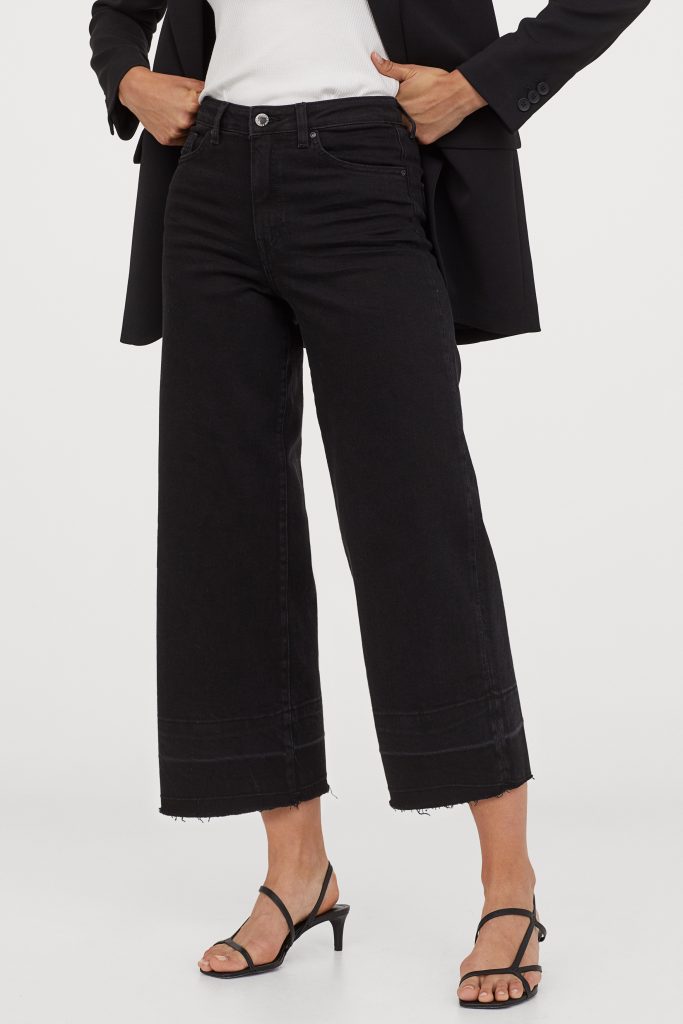 A cut that we have been seeing a lot of lately is the wide high ankle cut. The high waist, ankle-length, and wide legs have proven to be a fine addition to basically every outfit combination. It fits perfectly with different styles and tendencies, whether you wanna wear it with a tank top or a hijab, there's just something about this certain cuts that help your whole ensemble to pop more.
This cut is perfect for those with pear-shaped bodies, as well as hourglass-shaped bodies. It is also perfect for those who want to appear taller as they help elongate your form more, especially if worn with heels. This washed grey pair is one of H&M's best selling jeans and is available through their website.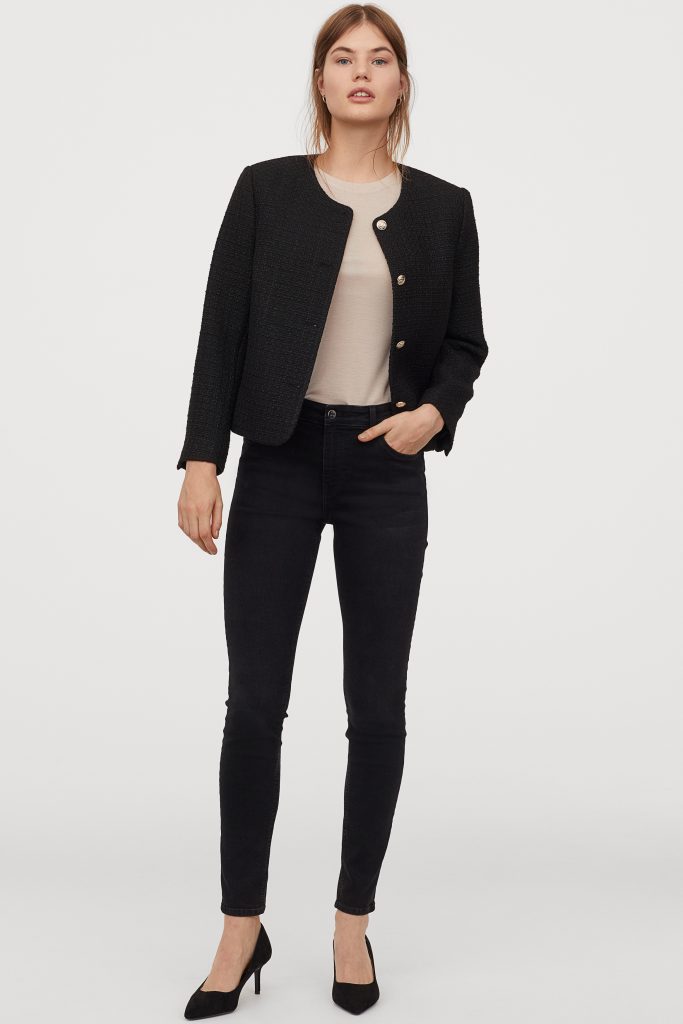 We can't be talking about jeans cuts and forget the one cut that has stuck by us for years and is still going strong, the skinny cut. Skinny jeans have been an irreplaceable and essential item in all of our closets for years for a good reason, they go perfectly with loose oversized tops, as well as the tight shapely ones. They can also be styled in morning casual outfits, smart casual looks, and evening classic ensembles.
More importantly, skinny jeans fit ALL body types, whether curvy or skinny. The one thing that would make a slight difference is the color and wash, dark wash skinny jeans are best suited for pear and hourglass shapes, while lighter washes are perfect for apple shapes and athletic bodies. You can find an unmatched variety of skinny jeans in different colors and waistlines on the H&M website and shop for the size and fit that suits you most.
These were just a few of the best-selling H&M jeans cuts, there are A LOT more where that came from, so you are 100% guaranteed to find the perfect cut for your style and personality. 
On the off chance that you don't, let us know in the comments and we will help you find the right pair for you!