Despite becoming more and more popular every day, good modest and hijab fashion is still not something easily found. Usually, it takes a hijabi woman several shopping trips to form just one whole outfit or ensemble.
But thankfully, this overly prolonged process has been made easier and shorter with online shopping. At least, now, all these shopping trips can be done from the couch now.
However, not all online clothing shops have what it takes to meet the needs and fashion demands of a modern modest or hijabi woman. But on the other hand, the few that do understand hijab fashion and what it entails are doing a great job at it.
Today, we are here to help you eliminate your long search and find exactly what you and your closet need without having to go off-budget. So here is a list of the best 5 online clothing shops for modest and hijab fashion.
Happy Shopping!
Modanisa
This Turkish online store has gained a vast reputation over the past few years as the go-to shopping destination for modest and hijabi fashionistas across the world. And rightfully so, the store offers an unmatched variety of products that are suitable for all types of occasions or needs putting an end to all Hijabi women's life-long struggle of not being able to find classy high-end clothing on the spot for an occasion or an event.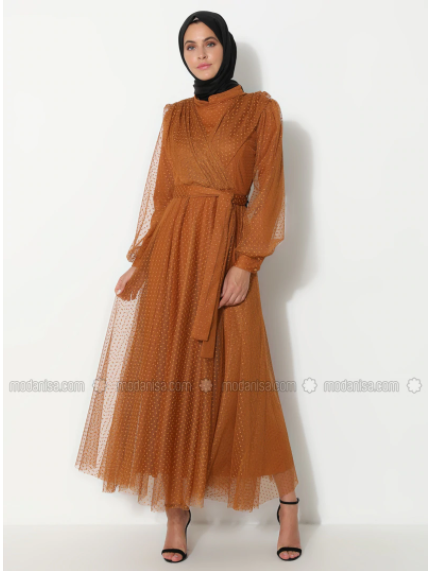 This classy number, for example, is a demonstration of the type of trendy modest fashion Modanisa offers. It is available on the brand's website at the price of 40 USD, but if you want, you can get it cheaper if you used the Modanisa coupon code which Yajny offers.
Ounass
As the face of luxury and high-end fashion in all of the Middle East, Ounass was sort of obligated to offer something for everyone, woman, man, and child, to meet the vast needs of its extremely wide audience. Ounass.com offers an unmatched quality from the world's top and most high-end brands, and among its incredibly wide collection, it offers a variety of products that appeal to most modest and hijabi women in the Middle East and stands out among other online shops.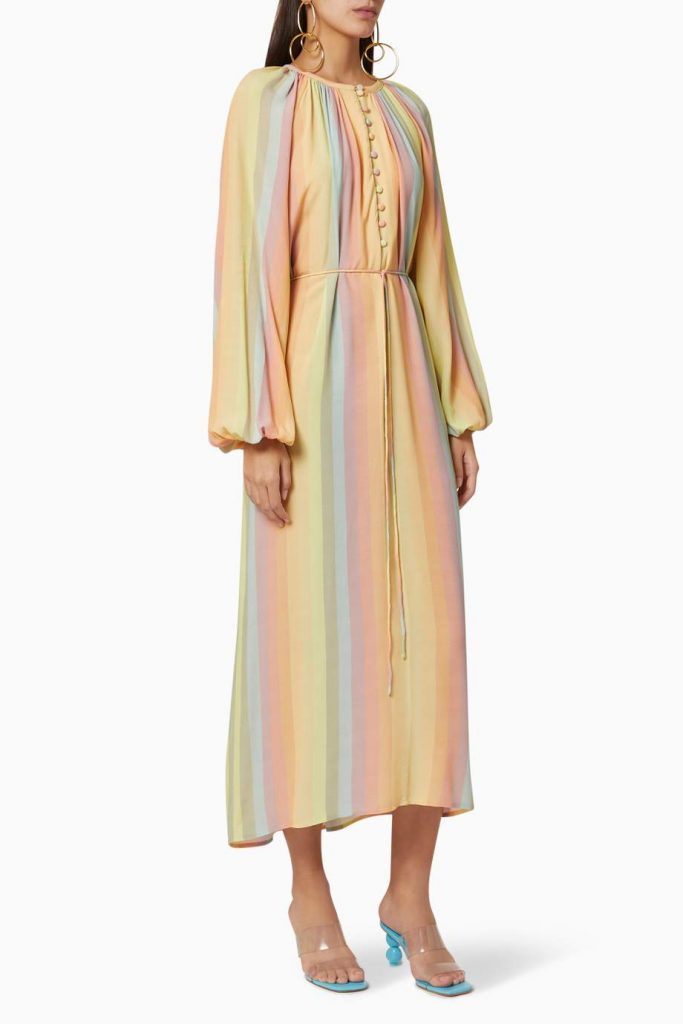 Case in point, this Stine Goya Elia Rainbow dress which has got pretty much everything, it is classy, playful, trendy, and of course, modest.
It is also available on Ounass's online shop at the price, 1,400 AED, but you can buy it at a much lower price if you shop through Yajny and use Ounass cashback and Ounass coupon.
Namshi
Namshi is one of the leading websites for online fashion and shopping in the Middle East. It provides various categories of products to fit every taste and need, including hijab fashion. An extra perk is that Namshi.com allows its users to shop by category or by product. For example, if you are looking for a new Abaya, you can just go directly on to the Abayas section on Namshi to find what you are looking for, or if you are looking for a trendy Kimono, you can head right to the Kimonos & Capes section without having to browse aimlessly.
The best part is that you also shop by edit, meaning you can shop specifically for items that are suitable for your style or occasion, for example, you can shop for holiday clothes, workwear, bridesmaids dresses, or just hop onto the modest section which displays clothes that are exclusively suitable for hijabi and modest women.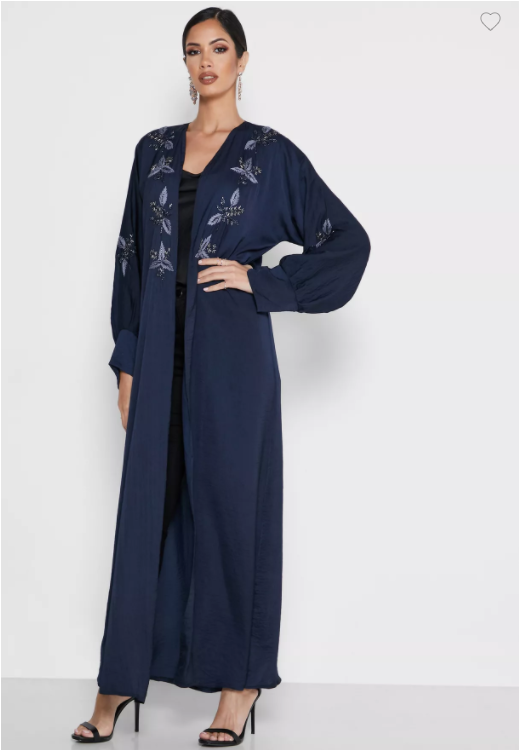 Like this embroidered abaya which can be found in both, the abayas section, or the modest section. This understated floral piece is currently on sale and is available on Namshi.com for 234 SAR instead of 334 SAR, but if you use the Namshi coupon code Yajny offers while shopping, you can get if for even less!
H&M
H&M is known for its youthful fun designs which are perfect for everyday use or summer days by the beach. And as one of the most popular clothing shops in the world, not just the Middle East, H&M had to offer something for everyone; every taste, fashion direction, and style. And to be honest, it did live up to these expectations. Every season, H&M includes among its collections several items with the same H&M flavor that are suitable for Hijab fashion and perfect for casual modest and hijabi women.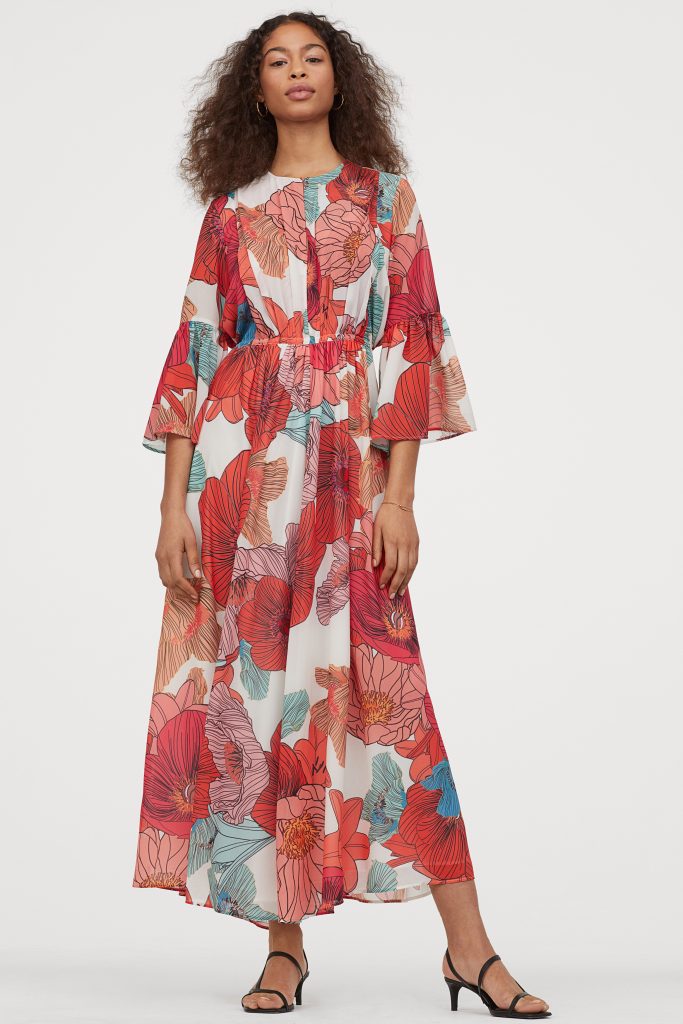 This colorful voluminous dress, for example, is one of the several pieces that H&M offers to meet the needs of the modern modest and hijabi woman. You can shop this look at 399 SAR on H&M's online shop. And if you do so through Yajny.com, you can get it much cheaper thanks to the H&M offers Yajny provides, such as H&M cashback & coupons. 
Shein
Living up to its inclusive motto 'Everyone can enjoy the beauty of fashion', Shein.com offers the most trendy and fashionable designs for every taste and style, including modest and hijab fashion. So it was no surprise when it started to make that much fuss in the middle east among modest and hijab fashion communities as well as hijabi fashionistas, aside from its very affordable prices, Shein offers styles and designs that are just not as easily found elsewhere, especially for stylish hijabi women who struggle to find clothes that are equal parts modest and fashionable. But Shein managed to be an exception in that area.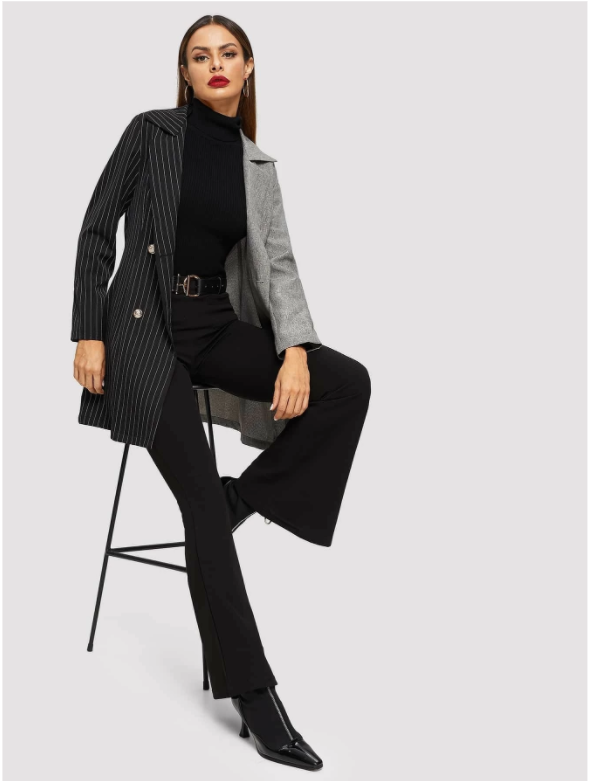 This half and half blazer, for example, is a living example of these affordable and fashionable yet modest designs we were talking about. You can buy it from Shein for only 20 dollars, but you can even get it cheaper if you use the Shein offers available on Yajny, Shein cashback and coupons.
Now that we have shared with you our top 5 store choices for modest and hijab fashion, it is your turn to share with us your favorite go-to modest and hijabi online shops, so don't forget to let us know in the comments!