If you are looking for ways to help you eat healthier without depriving yourself of your favorite foods, then an air fryer is the answer to all your cooking prayers. This miracle kitchen gadget is the best kitchen buddy for every chef looking for ways to prepare more healthy yet delicious food. An air fryer is basically a small convection oven that works by circulating hot air up to 400 degrees around the food you are cooking, thus, making it crispy and crunchy without having to use any oil or butter such as what would normally need to use with a regular fryer pan.
So you might be wondering what kind of foods exactly can you make in an air fryer. Well, we are here to tell you that the sky is the limit when it comes to pallet choices, whether you are craving some french toast, cheese fries, onion rings, or even sauteed veggies, an air fryer is all you need. To give you some inspiration, we have compiled for you today some of the delicious yet healthy delights that you can easily make using your air fryer, and also a list of stores from which you can get yourself a brand new air fryer. Just so you won't have any more excuses not to eat healthy anymore!
So, let's dig right in…
Air Fried Sweet Potato Tots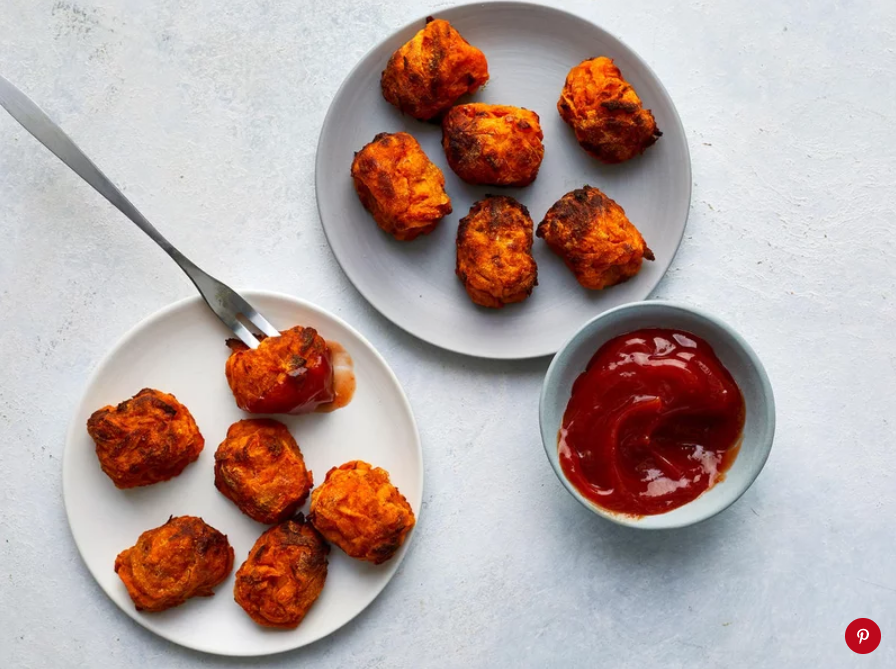 When you cook sweet potato tots in an air fryer, it gives it a more crispy exterior while keeping its airy soft interior. These homemade potato tots are the perfect way to get yourself to eat more veggies, especially, if you were never a vegetable person. They're also extremely easy to make and more affordable than store-bought frozen sweet potato tots.
Spraying the tots with cooking spray helps with giving them that perfectly brown and crispy look, though, they still may not be browned evenly in an air fryer. Before putting them in the air fryer to cook, just make sure to boil the sweet potatoes well enough before that they hold together when shaped, but still retain their texture. When they are done, throw on some side dipping sauce such as ketchup, and your healthy yet delicious meal is ready.
The Ingredients
2 small (14 oz. total) sweet potatoes, peeled
1 tablespoon potato starch
1/8 teaspoon garlic powder
1 1/4 teaspoons kosher salt, divided
3/4 cup no-salt-added ketchup
Cooking spray
Recipe Steps:
Bring a medium pot of water to a boil over high heat. Add the sweet potatoes, and cook for about 15 minutes or until it is fork-tender. Transfer potatoes to a plate to cool, leave it for another 15 minutes.
Working over a medium bowl, grate potatoes using the large holes of a box grater. Gently toss with potato starch, garlic powder, and 1 teaspoon salt. Shape mixture into about 24 (1-inch) tot-shaped cylinders.
Lightly coat the air fryer basket with cooking spray. Place 1/2 of tots (about 12) in a single layer in the basket, and spray with cooking spray. Cook at 400°F until lightly browned, 12 to 14 minutes, turning tots halfway through cook time.
Air Fried Chicken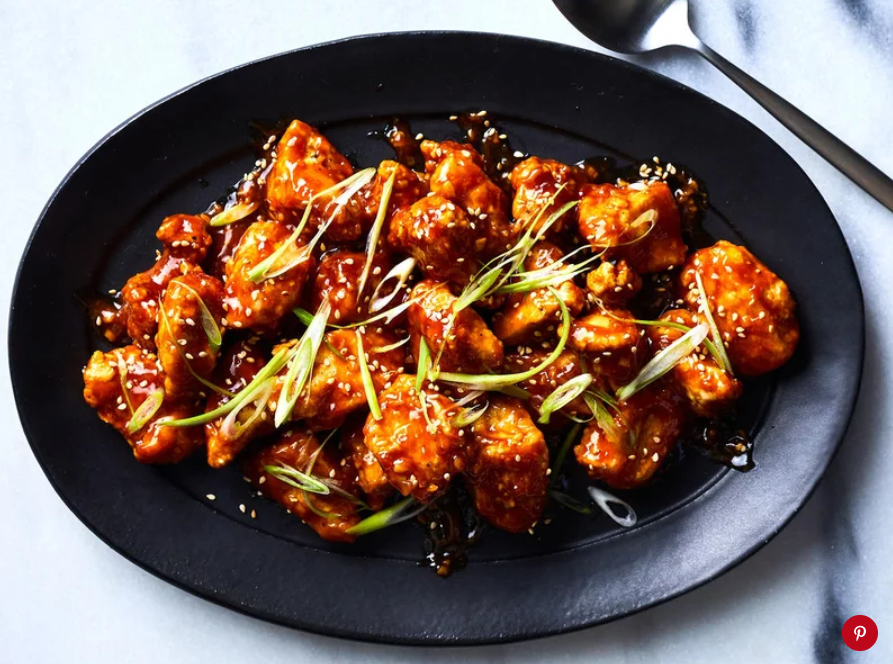 Making this classic Chinese plate in an air fryer cuts down nearly half the saturated fats this meal usually contains when bought from restaurants or Chinese takeout joints. It is important to note that air fryer sizes vary (hence the cook time's wide range); if you have a small air fryer, stick to cooking in batches so that there's plenty of room for the air to circulate and crisp up the chicken.
Ingredients
1 large egg 1 pound boneless, skinless chicken thighs, patted dry and cut into1 to 1 1/4-inch chunks
1/3 cup plus 2 tsp. cornstarch, divided
1/4 teaspoon kosher salt
1/4 teaspoon ground white pepper
7 tablespoons lower-sodium chicken broth
2 tablespoons lower-sodium soy sauce
2 tablespoons ketchup
2 teaspoons sugar
2 teaspoons unseasoned rice vinegar
1 1/2 tablespoons canola oil
3 to 4 chiles de árbol, chopped and seeds discarded
1 tablespoon finely chopped fresh ginger
1 tablespoon finely chopped garlic
2 tablespoons thinly sliced green onion, divided
1 teaspoon toasted sesame oil
1/2 teaspoon toasted sesame seeds
Recipe Steps:
Beat the egg in a large bowl, then add the chicken and make sure to coat it well. In another bowl, mix 1/3 cup cornstarch with salt and pepper. Transfer chicken with a fork to the cornstarch mixture, and stir with a spatula to coat every piece.
Preheat the air-fryer at 400°F for 3 minutes. Then, transfer chicken to air-fryer oven racks (or fryer basket, in batches), leaving a little space between pieces. Add the battered chicken; cook for 12 to 16 minutes, giving things a shake midway. Let dry for 3 to 5 minutes. If the chicken is still damp on one side, cook for 1 to 2 minutes more.
Whisk together the remaining 2 teaspoons of cornstarch with broth, soy sauce, ketchup, sugar, and rice vinegar. Heat canola oil and chiles in a large skillet over medium heat. When gently sizzling, add the ginger and garlic; cook until fragrant, for about 30 seconds.
Re-whisk cornstarch mixture; stir into mixture in skillet. Increase heat to medium-high. When sauce begins to bubble, add chicken. Stir to coat; cook until sauce thickens and nicely clings to chicken, for about 1 1/2 minutes. Turn off heat; stir in 1 tablespoon green onion and sesame oil. Transfer to a serving plate, and top with sesame seeds and remaining 1 tablespoon green onion.
Air Fried Doughnuts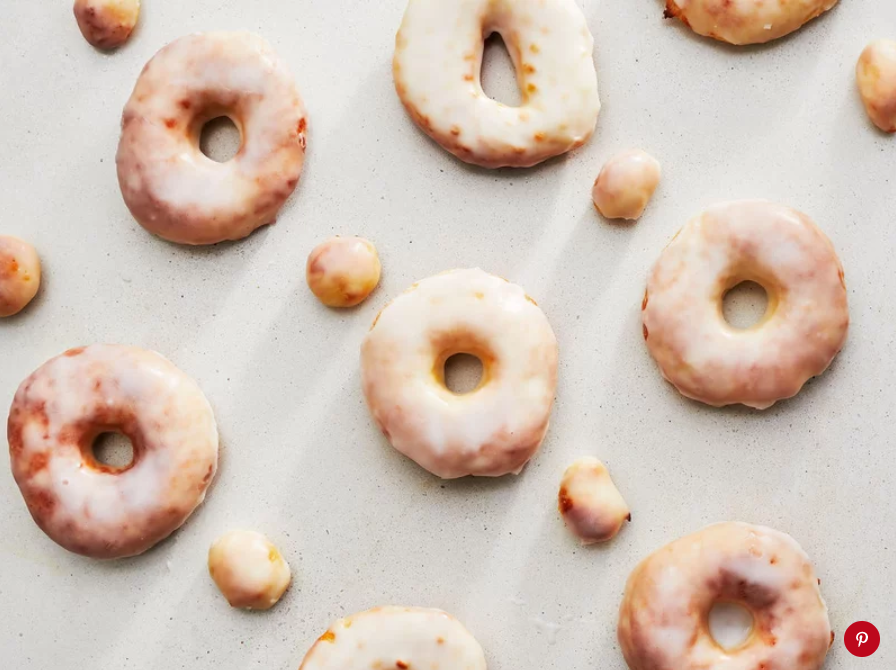 Let's face it, it is impossible not to be in love with doughnuts, but this delicious relationship usually comes with a great load of guilt. But fear not, we have got the perfect solution for you to eat doughnuts guilt-free! These air-fried rings deliver the same sweet, tender, and crackly sugar glazed goodness with way fewer calories and more nutritional value.
Tip: After the doughnuts have risen, use the parchment paper to help gently transfer them into the air fryer. Use two forks to lower them into the glaze for maximum coverage.
Ingredients
1/4 cup warm water, warmed (100F to 110F)
1 teaspoon active dry yeast
1/4 cup, plus
1/2 tsp. granulated sugar, divided
2 cups (about 8 1/2 oz.) all-purpose flour
1/4 teaspoon salt
1/4 cup whole milk, at room temperature
2 tablespoons unsalted butter, melted
1 large egg, beaten
1 cup (about 4 oz.) powdered sugar
4 teaspoons tap water
Recipe Steps:
Mix together water, yeast, and 1/2 teaspoon of the granulated sugar in a small bowl; let stand for about 5 minutes or until foamy. Mix the flour, salt, and the remaining 1/4 cup granulated sugar in a medium bowl. Add yeast mixture, milk, butter, and egg; stir with a wooden spoon until a soft dough comes together. Turn dough out onto a lightly floured surface and knead until smooth, this should take from 1 to 2 minutes. Transfer dough to a lightly greased bowl. Cover and let rise in a warm place until doubled in volume which would normally take about 1 hour.
Turn dough out onto a lightly floured surface. Gently roll to 1/4-inch thickness. Cut out 8 doughnuts using a 3-inch round cutter and a 1-inch round cutter to remove the center. Place the doughnuts on a lightly floured surface. Cover loosely with plastic wrap and let stand until doubled in volume which would take about 30 minutes.
Place 2 doughnuts in a single layer in the air fryer basket, and cook at 350°F until golden brown, so for about 4 to 5 minutes. Repeat the same process with the remaining doughnuts.
Whisk together powdered sugar and tap water in a medium bowl until smooth. Dip the doughnuts in glaze; place on a wire rack set over a rimmed baking sheet to allow excess glaze to drip off. Let stand until glaze hardens, for about 10 minutes.
Air Fried Banana Bread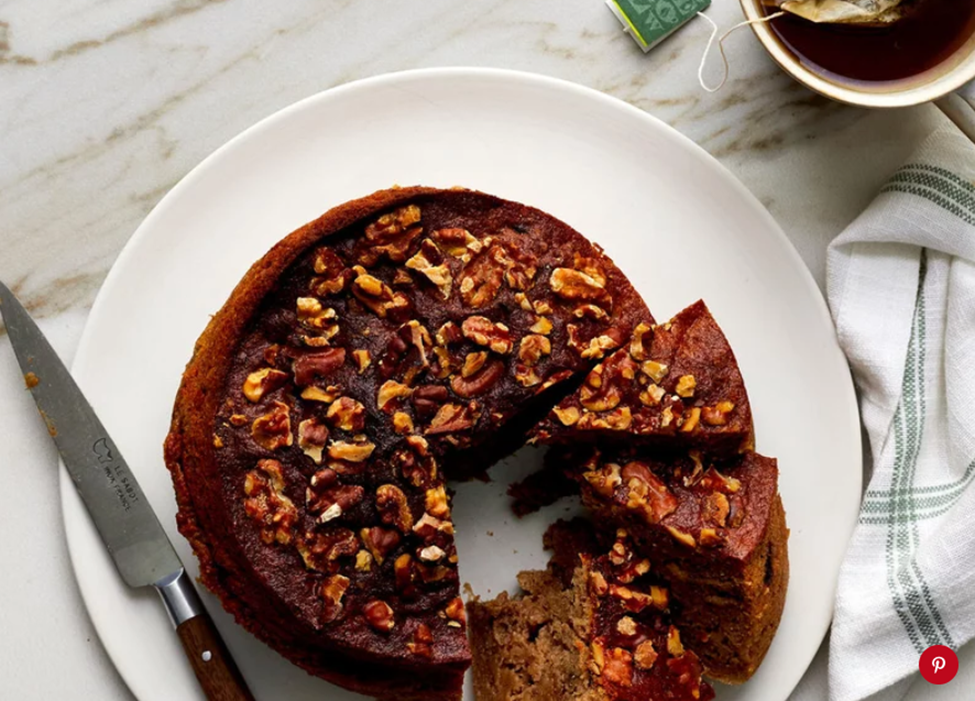 Banana bread is a classic dessert/breakfast food famous for its rich and delicious banana flavor, and perfect to pair with a cup of hot tea for a healthy delicious breakfast or as a light afternoon snack. Especially if cooked using the wonder that is the air fryer, for a loaf of moist and dense yet healthy and light banana bread.
Tip: Toast the walnuts before using them in the recipe to deepen their flavor. Take note, though, the top of the bread will get a little darker than if you were to cook a banana bread in a regular oven due to the heating element being right above the bread.
Ingredients
3/4 cup (3 oz.) white whole wheat flour
1 teaspoon cinnamon
1/2 teaspoon salt
1/4 teaspoon baking soda
2 medium (12 oz. total) ripe bananas, mashed
2 large eggs, lightly beaten
1/2 cup granulated sugar
1/3 cup plain nonfat yogurt
2 tablespoons vegetable oil
1 teaspoon vanilla extract
2 tablespoons toasted walnuts, roughly chopped
Cooking spray
Recipe Steps:
Whisk together flour, cinnamon, salt, and baking soda in a medium bowl; set aside. Line the bottom of a 6-inch round cake pan with parchment paper; lightly coat pan with cooking spray.
In a separate medium bowl, whisk together mashed bananas, eggs, sugar, yogurt, oil, and vanilla. Gently stir wet ingredients into flour mixture until well combined. Pour batter into prepared pan and sprinkle with walnuts.
Heat air fryer to 310°F and then place the pan in the air fryer and cook until browned. Insert a wooden pick in the middle and it comes out clean, it is done, this should take from 30 to 35 minutes, keeping in mind to turn the pan halfway through cooking time. Transfer bread to a wire rack to cool in the pan for 15 minutes before turning out and slicing.
Stores where you can buy yourself a brand new fryer:
Souq Egypt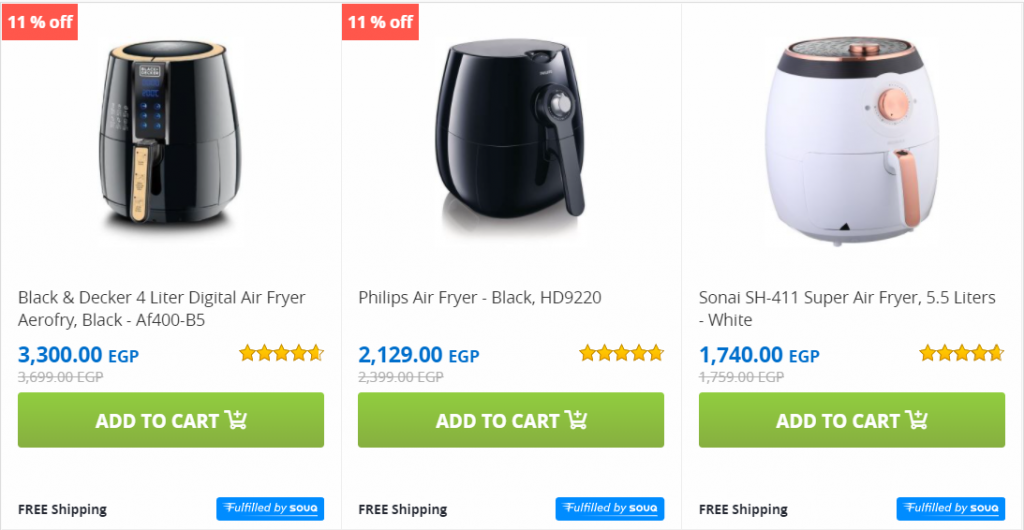 Souq Egypt provides electric air fryers from the best brands with superior quality and reliable manufacturers from all over the world. Souq Egypt is known for its variety of products and exclusive offers that include discounts and flexible financial payment solutions such as installment plans. You can save even more on your air fryer from Souq Egypt if you took advantage of Yajny's exclusive Souq Egypt cashback service.
In addition to the regular and seasonal offers and deals Souq Egypt provides, Yajny's Souq Egypt cashback service allows you to earn back some of the money you pay while making your air fryer purchase from Souq.com. If you want to know more about how exactly you can take advantage of this money-saving service, make sure to check Souq Egypt's store page on Yajny.com.
Sharaf DG

The popular Sharaf DG store has a variety of options when it comes to the best air fryers on the market from brands like Philips, Tefal, Black & Decker, and more. Other than impeccable quality, Sharaf DG provides a series of different deals and offers on its products on regular basis. That is in addition to the exclusive Sharaf DG cashback service which Yajny offers you through its platform.
With Yajny's exclusive Sharaf DG cashback, you can recover a certain percentage of the total amount you paid while shopping for air fryers from the online store, just as long as you make your transaction through Yajny's platform. Make sure to visit Yajny's store page for Sharaf DG and take a look at the detailed steps of how you can take full advantage of this cashback service.
Carrefour KSA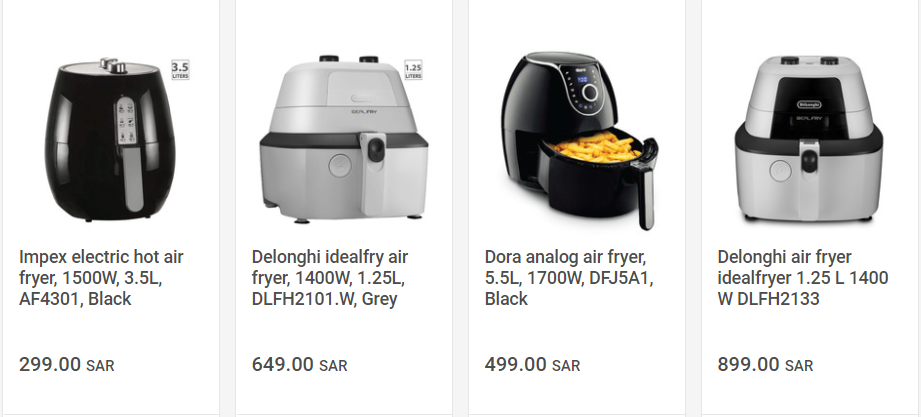 Carrefour KSA provides the best options when it comes to electric air fryers with special offers and famous brands that guarantee quality and long life. You can choose from brands such as DeLonghi, Dora, Hommer, and more. Just make sure to read the specs under each product to choose the sir fryer most suited to your cooking needs. There are various price packages to ensure that you can find an air fryer within your budgetary limits. Carrefour KSA also usually offers a variety of deals and promotions that can help you save on your air fryer.
You can save even more if you take advantage of Yajny's exclusive Carrefour KSA discount coupon code which gives you an extra discount on all your purchases from Carrefour KSA's online store. 
If you have questions or inquiries about air fryer cooking recipes or how you can buy an air fryer at a cheaper price, don't hesitate to let us know in the comments, and we'll get right back to you!