Camping is a unique activity that combines the beauty of nature with a spirit of adventure and exploration. It is an experience that positively impacts both mental and physical health. This experience provides an opportunity to escape the hustle and bustle of daily life and enjoy the tranquility and natural beauty that the outdoors offers. From a mental perspective, camping can help relieve stress and increase awareness of the surrounding environment. Being in the great outdoors, away from the trappings of urban life, can contribute to renewing one's energy and enhancing mental clarity.
On a physical level, camping involves physical activities such as hiking, biking, mountain climbing, fishing, and more. These activities promote physical fitness and improve physical strength. Additionally, camping can be an opportunity to learn new skills like fire-starting or outdoor cooking. These skills are not only useful during camping but can also be valuable in daily life.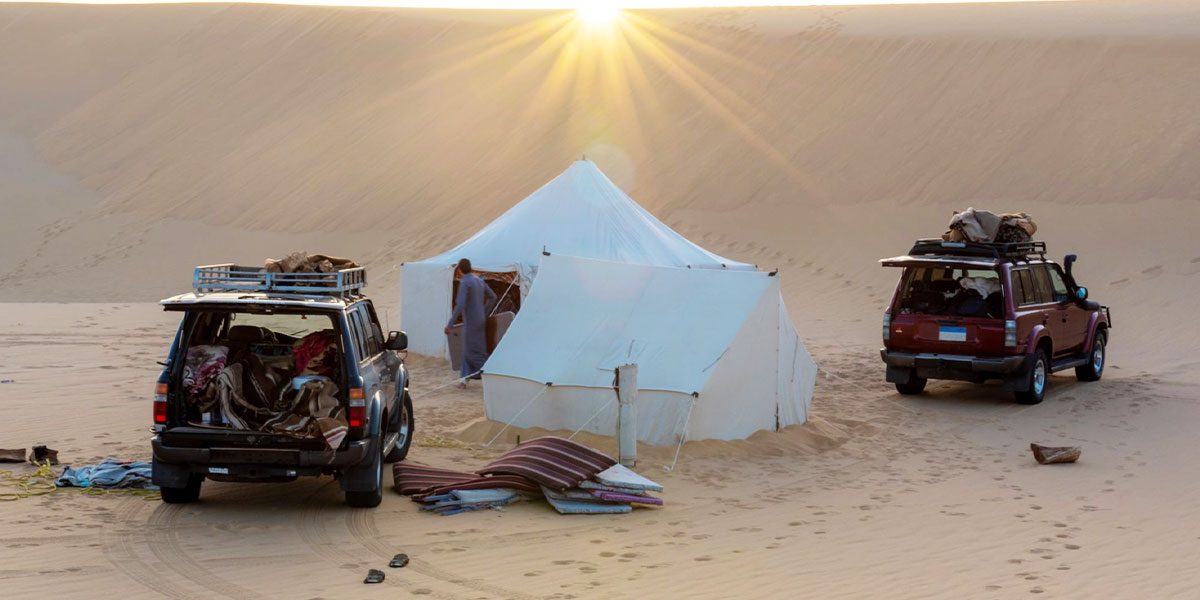 Camping and Adventure: Explore the Beauty of the Outdoors in Egypt
Egypt is an ideal destination for camping and adventure enthusiasts. The country boasts a diverse range of stunning natural places that can be explored through camping. Dahab camps and Nuweiba camps are prime examples of this. These areas are located on the Red Sea coast and offer a wonderful chance to enjoy sandy beaches and water activities. In addition, campers can delight in wandering through the surrounding desert.
The joy of camping lies in its simplicity and the connection it fosters with nature. Spending time outdoors can help individuals appreciate the simple things in life and connect with the environment. Camping can also strengthen social bonds, bringing friends and family closer together. Sharing the experience and being in a different environment can make relationships stronger and more meaningful.
Camping experiences also underscore the importance of sustainability and environmental conservation. By leaving a campsite clean and adhering to environmental rules, individuals can play a part in preserving natural areas. This adventure can be both thrilling and educational, as it teaches us how to appreciate and care for the treasures of nature.
A Unique Experience: Camping in Dahab and Nuweiba
Among the famous camping destinations in Egypt, Dahab and Nuweiba stand out. Dahab is located in the northeastern part of the Sinai Peninsula, along the Red Sea. It is renowned for its beautiful beaches and clear blue waters. Campers in Dahab can enjoy diving swimming in the sea and relaxing on the beach. You can also experience camel rides in the surrounding desert, adding a unique touch to your adventure.
Marsa Alam is another fantastic destination for camping in Egypt. Also situated on the Red Sea coast, it combines stunning mountain landscapes with the sea. Here, campers can enjoy diving in marvelous coral reefs and witnessing the mesmerizing marine life. You can also explore the nearby mountains and wander through the desert.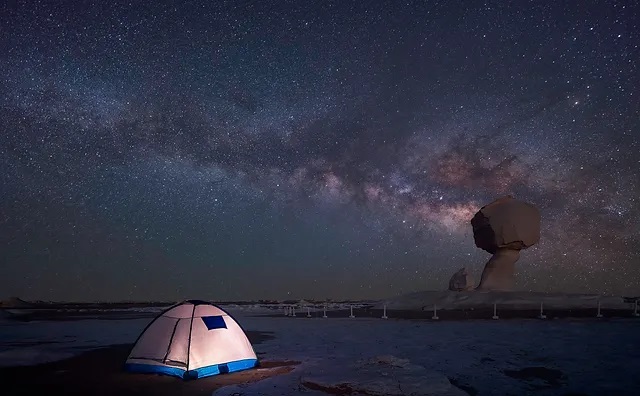 Embrace the Beauty of Nature: Camping Trips in Egypt
In addition to Dahab and Marsa Alam, there are many other places in Egypt that you can explore through camping. You can go camping by the Red Sea to enjoy its marvelous waters and coral reefs. You can also explore inland areas like the Fayoum Oasis and its natural lakes.
The Fayoum Oasis, located south of Cairo, is one of the most beautiful natural areas in Egypt. Camping here allows you to enjoy the green water bodies and desert mountains. Furthermore, you can visit the natural lakes in the oasis and observe migratory birds and rich wildlife.
Adventure Awaits: Camping in the Egyptian Desert
For adventure enthusiasts, camping in the Egyptian desert can be an ideal choice. You can explore the stunning deserts and stargaze under clear skies. Camping in the desert offers a unique experience that brings you closer to the wild beauty of nature and the unparalleled serenity it offers.
An Exceptional Camping Experience in Egypt: Wonderful Places to Explore
There are several outstanding places in Egypt that are worth exploring through camping. These include the Siwa Oasis in the Western Desert, the Saint Catherine Mountains in the Sinai Peninsula, and the Pink Lakes in Dahab's Oasis. All of these areas offer unique experiences that blend natural beauty with cultural significance.
Camping in Egypt: Exceptional Places to Enjoy Nature
Egypt is not only a magnificent tourist destination but also a haven for outdoor enthusiasts. Camping in Egypt provides a unique experience that combines exploration, adventure, and the enjoyment of tranquility and beauty. This experience will be an unforgettable memory and an opportunity to escape from the routine of daily life while connecting with nature in a new and exciting way.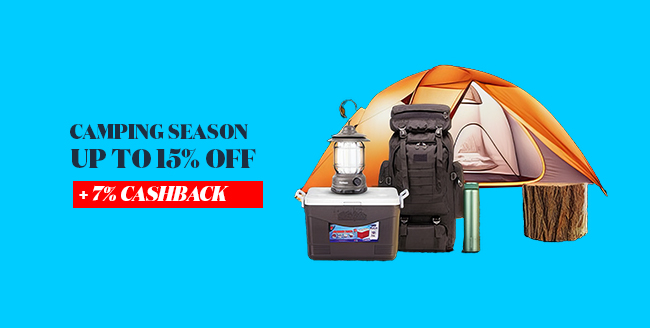 Get the Best Camping Equipment: Your Guide to Essential Camping Gear from Amazon
Camping is a fantastic activity that can provide individuals with a unique outdoor experience, whether they are beginners or seasoned campers. If you are planning a camping trip, whether it's nearby or far away, being well-prepared and having the right equipment are essential. Here's our guide to the most important camping gear you can purchase from the Amazon store. Make sure you're ready for your outdoor adventure with the best tools.
Essential Camping Equipment:
High-Quality Tent: If you plan to stay in the camp for several nights, a good tent is essential. Ensure it is durable, weather-resistant, and suits the number of campers.
Sleeping Gear: This includes sleeping bags, blankets, and sleeping pads. Choose sleeping gear that provides warmth and comfort on cold nights.
Cooking and Food Equipment: You may need a portable stove, basic cookware, and utensils to prepare meals at the campsite. Make sure they are portable and lightweight.
Lighting and Safety Equipment:
Flashlight: Lighting is crucial at night. Make sure to carry a high-quality flashlight with spare batteries.
First Aid Kit: Don't forget first aid tools that contain supplies for treating minor injuries and burns.
Navigation Tools: If you plan a trip to remote areas, consider a compass or GPS device for accurate navigation.
Hygiene and Maintenance Supplies:
Environmental Cleanup Tools: You may need garbage bags and cleaning tools to maintain the cleanliness of the camp.
Extra Water and Food: Ensure you carry enough water and food for the duration of your camping trip. Store them securely to keep insects away.
Tent Repair Tools: You might need tools for repairing your tent if it gets damaged.
Clothing and Accessories:
Appropriate Clothing: Pack clothing suitable for the weather, and have spare clothes on hand.
Comfortable Footwear: Select comfortable and suitable shoes for outdoor walks.
Hat and Sunglasses: Protect yourself from the sun with a hat and sunglasses.
Entertainment Tools:
Portable Chair: A portable chair can provide a comfortable seating option at the campsite.
Books and Games: Bring books or games to enjoy during your downtime at the camp.
Camera: Capture memories and document your trip with a camera.
Before purchasing equipment, check product reviews and user feedback on Amazon. This will help you choose high-quality products. After acquiring your gear, inspect and test it to ensure it functions correctly. Prepare carefully for your outdoor trip and enjoy camping with maximum comfort and safety.