Being a parent has never been that easy of a job.  It is your role and responsibility as a parent to care, love, and protect your little one from any and every possible harm that might come their way. This is why you need the best tool kit to help you do your honorable job as a parent perfectly. Two indispensable items in that tool kit are stroller and car seat.
Thankfully, thanks to modern-day intelligence and technology, these two items have emerged into one baby travel system -stroller and car seat combo- which will make your life as a parent on-the-go a whole lot easier.
A good and trusted stroller and car seat combo provide your baby with protection and comfort in all types of situations. If you are doing some errands with your baby in the stroller and your little one finally manages to drift off, you won't have to wake him/her up to do a stroller-car seat-transfer, you can just turn the stroller into a car seat, and you are good to go.
However, choosing a traveling system for your baby can be quite challenging because you want the absolute best for your child within your budget limit. So to help you reach a well-informed decision easier, we have compiled for you a detailed list of the best stroller and car seat combos of 2020.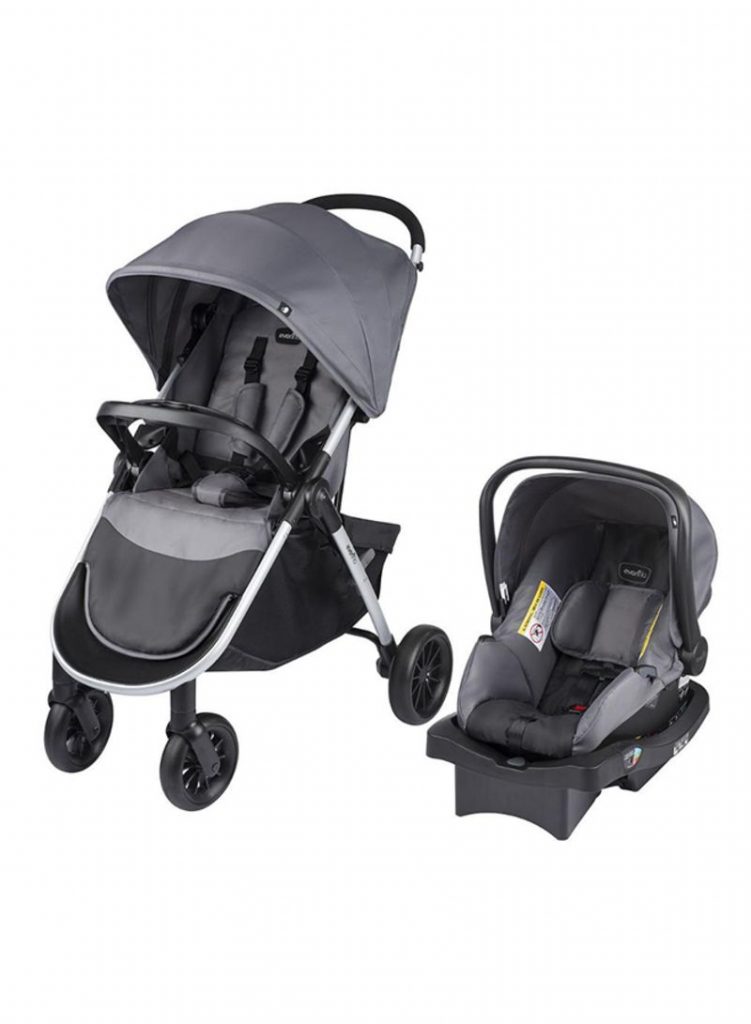 Elegance, flexibility, and luxurious design are just some of the reasons why this specific baby stroller and car seat combo tops our list. This one-hand luxury stroller folds to 1/3 the size of its traditional full-size with one simple click.
The Evenflo Folio Travel System features advanced cruiser tires that will provide your child with smoother riding, subsequently, making it easier for you to push it using its ergonomic handles. Its lightweight design, padded handle, and convenient operation are crafted to make the process of carrying around and moving with your newborn or infant child as easy and comfortable as it could be.
This 2 in 1 state-of-the-art baby travel system is available on Noon.com for AED 999, but if you shop using the Noon cashback service and Noon discount coupons that Yajny offers, you can buy it at a much lower price.
Additional Specs:
Weight Range: 4-35 lbs
Number of Wheels: 4
Sun protection Cover: Yes
Peeking Window: Yes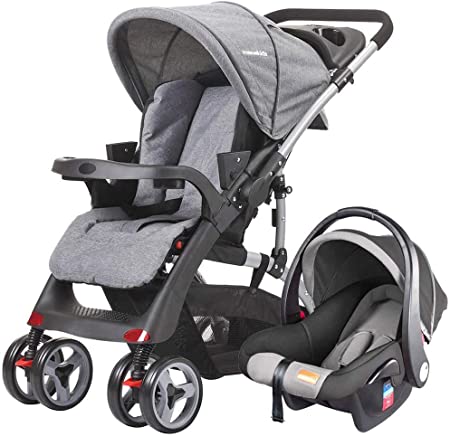 Yes, the name might be quite a mouthful, but that's just because of how much this 'one' device can cover. This uniquely-designed set will have your baby covered from the day he/she is born till they are 4 YEARS OLD. In other words, this one smart purchase can put your worried mommy mind at ease for four whole years.
This stroller and car seat combo is equipped with an adjustable handle so that you can direct the way you prefer and observe your baby from different angles. It is also equipped with a protective board that provides your child with protection against dust, rain, and sunlight.
For maximum protection, this 4 in 1 stroller has an excellent absorption system that protects your baby from any pumps or extreme movement while on the go. There is also a foot parking brake that will allow you to stop the stroller easily anytime you like.
You can adjust your usage according to your needs, while in the car, you can use independently a car seat, when on the move, you can easily connect it to the stroller, and when it is time for your precious little one to fall asleep, you can use it as a bassinet. Lastly, When you are done with it, for the time being, you can just fold it for easy storage.
This miracle set is available on Amazon for AED 655. However, you can get it even cheaper if you use the Amazon cashback and coupons available on Yajny.
Additional Specs:
Car Seat Age Range: 0-5 months
Sleeping Basket Age Range: 0-6 months
Baby Stroller Age Range: 0-4 years
Product Weight: 13.2 KG
Batteries Required: No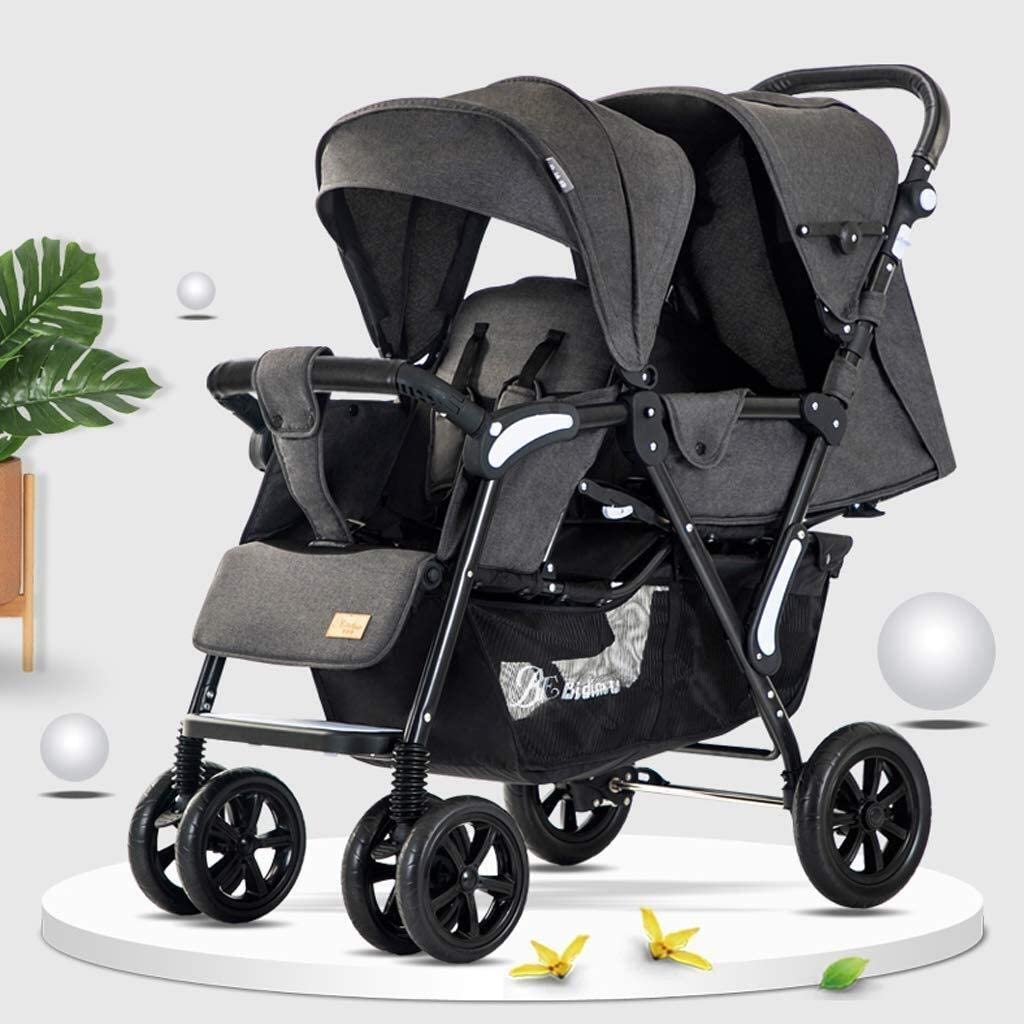 We can't forget about the lucky yet extremely exhausted parents who have twins. Because if convenience is important when traveling with one baby, imagine having to do it with two. It is not easy, but this handy double stroller will, for sure, come in handy.
This twins baby stroller is made of high-quality aluminum alloy, and each baby stroller is pressure tested while production to provide maximum safety for each baby individually. This double set is equipped with multi-position padded seats which you can recline to adjust according to your babies' needs.
This handy baby vehicle also has two food trays, each with a bottle holder, so it would be easier for you to feed your twin babies simultaneously when you need to while on the move.
The only downside to this awesome stroller is that although it is perfect for traveling with twin babies, it does not separate into a car seat, so you'll probably have to purchase your babies' car seats separately.
You can find this TZZ double stroller on Amazon at the price of AED 3,071, however, you can get it a lot cheaper if you shop through Yajny.com and enjoy the Amazon offers available on the website.
Additional Specs:
Stroller Age Range: From birth to 25 kg.
Additional Product Features: Canopy, Swivel Wheels.
Stroller Weight: 12 kg.
This luxurious fashionable baby travel system offers more than just style. This multifunctional baby carrier has three different uses. It can be used as a stroller while walking around with your baby, and when your baby is asleep, the seat can be adjusted into a sleeping basket for comfort. And of course, as for the seat itself, it can be separated from wheels easily and used as an independent seat. It is also incredibly easy to fold and store in the trunk of your car when you are done with it.
This high landscape luxury travel system is equipped with an anti-shake hook that allows your baby to sleep more comfortable while on the move. It also offers maximum protection as it has four layers of surrounded protection, it has a five-point seat belt, cotton cloth cover, high-pressure vertical injection skeleton, and a shock-absorbing sponge pad. So whether it is dust or road pumps, nothing can harm your baby in there.
This stroller and car seat combo come in various different and stylish colors, such as light blue, pink, light grey, dark grey, black, and khaki. All colors are available on AliExpress.com for $380. If you want to snag this luxury baby ride at a cheaper price, you can shop with AliExpress cashback through Yajny.com.
Additional Specs:
Age Range: 0-3 years
Load Bearing: Up to 15 kg.
Frequently Asked Questions
How do I choose a car seat and stroller?
The search for a new baby travel system can be quite broad and confusing, which is why you have to prioritize, and the higher priority actually goes to the car seat, not the stroller. Of course, strollers add a much-needed convenience, the car seat is what keeps your baby safe and supported in the car. So while searching for a stroller and car seat combo, limit your search to the ones with car seats that fit tightly into your car and can be installed easily.
What age can a baby use a stroller without a car seat?
There is no specific age for when babies should stop using the car seat, it differs from one stroller to another depending on its design. However, in most cases, it is advised to keep using the stroller with the car seat until your baby is at least 5-6 months old.
What age can babies sit in a stroller and why?
It is highly recommended for new babies to lie flat until they are at least 3-4 months, or until they can support their own head. So until then, your baby needs to lie flat, not sit in an inlined seat because this position lets babies breathe better allowing more oxygen into their lungs. It is also the best position for their developing spine and hips to develop properly and without being exposed to any unnecessary pressure.
What should I keep in mind when searching for a baby travel system?
As we mentioned earlier, it is important to give priority to the car seat when looking for a stroller and car seat combo. However, that's not all. When it is time to choose your baby travel system, there are several things that should factor into your decisions, such as:
Safety
Weight
Comfort
Stroller folding
Maneuverability
Stroller seat recline
Breathability of fabric
If you are an experienced parent and have tried any of these travel systems, let us know which is your favorite and why. And if you have a different stroller and baby seat combo that you would like to recommend, help other parents out and let us know in the comments so we can add it to our list.