Eid Al-Adha is approaching, which means that right now is the season of Eid outfits shopping. If you are a parent, you probably kind of dread this season a bit, because it is usually the time of year when you spend hours scouting clothing stores with your little ones looking for the best Eid outfits you can find for them. However, other than being exhausting and a bit daunting, it is also not exactly cheap.
Seeing how this is a hot season in basically all Muslim and Arab countries, it gets harder and harder every day to find something both you and your kid like and within your budget, so much some would say even impossible. So imagine being able to find your kids the perfect stylish Eid outfits without having to go over your budget limit and without even having to leave your house, how great would that be!
Well, you are about to find out yourself, because, in the following list, you will find the best kids' clothes deals from the best and most famous online stores in the Middle East so you can dress your kids up for Eid without majorly damaging your paycheck.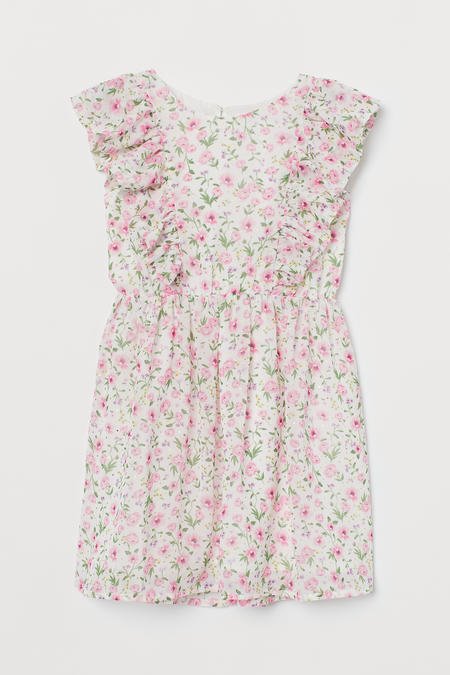 This little stylish number is enough to make your little princess feel like a supermodel. The chiffon fabric is perfect the summer as it gives an airy and breezy feel to the look. The flounces over the front and shoulders with the floral patterns give it a girly feminine look and it is in keeping with this year's hottest trends.
You can find this dress for SAR 99 on H&M KSA but if you shop from H&M through Yajny, you can take advantage of H&M cashback which saves you up to 6%. You can also save an extra 15% if you use the H&M coupon available on Yajny.
2.
Shirt and Shorts Set – Mothercare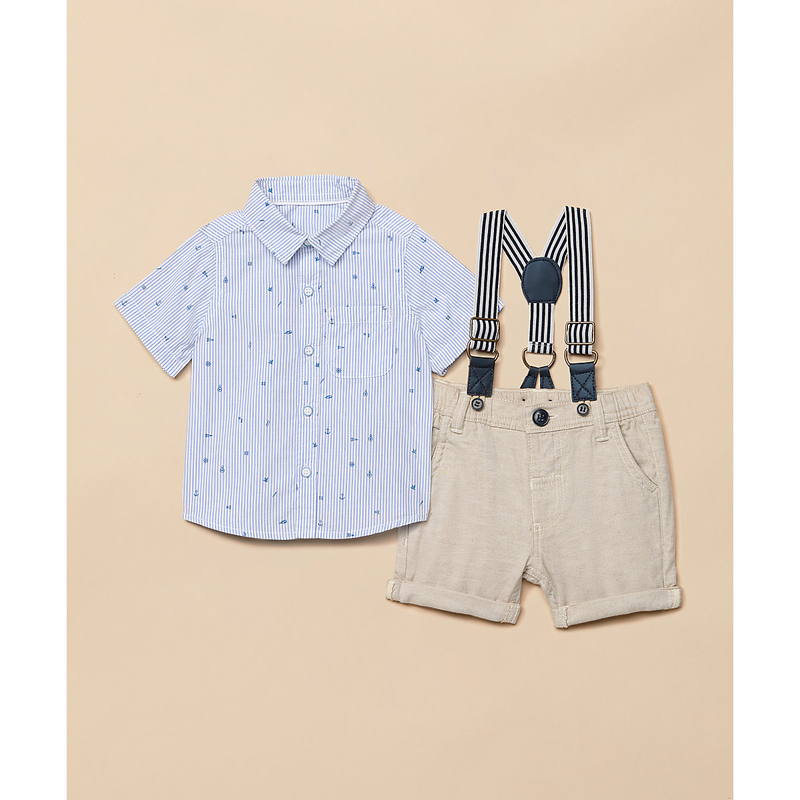 If you have been recently blessed by a newborn baby boy, then you have to go for something strikingly and over the top adorable to be fitting with your son's first Eid Adha. Luckily this Mothercare ensemble fits the description perfectly. Other than the cute and fashionable design, the natural cotton this two-piece set is made of is perfect for your baby's skin and will leave him cool and comfy all day long, which results in less effort for you, of course.
Thanks to Mothercare's Eid sale, this set is offered for half its original price at SAR 92.50. However, you can get an extra 15% off if you use the Mothercare coupon available on Yajny.com. Combine that with the 6% you get back when you use the Mothercare cashback, and you have got yourself the hottest bargain you could possibly get.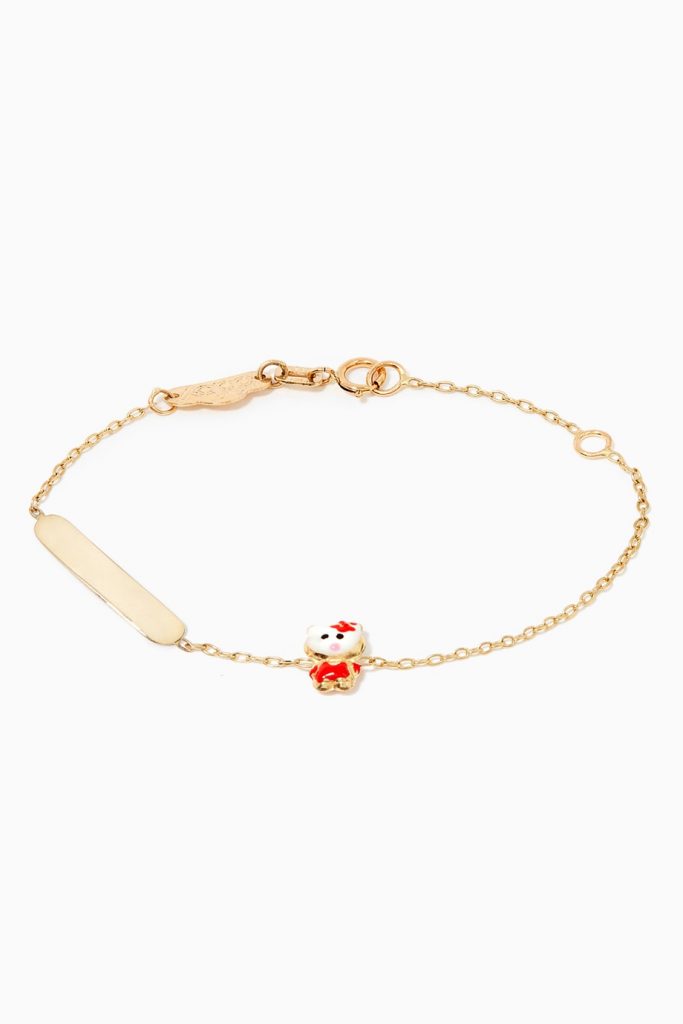 If you don't pamper your little ones during Eid Al-Adha, who will? And we all know that nothing says pampering, more than jewelry. Instead of giving them 'Eideya', this Baby Fitaihi golden bracelet could be a new and creative way to gift your baby girl in honor of Eid, and it will add an elegant and luxurious touch to your baby's final Eid look.
This 18kt gold charm is available on Ounass.com at the price of SAR 760. However, if you shop through Yajny.com, you will be able to benefit from
Ounass cashback and Ounass coupons
and save up to 15%.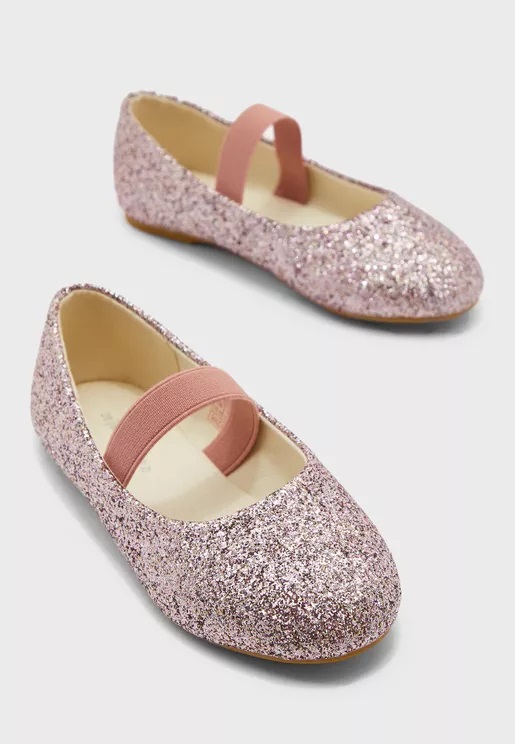 When it comes to Eid outfits, we can't forget about Eid shoes, obviously. This pair of glitter-covered ballerina shoes from Namshi is perfect to complete your little princess's Eid ensemble. And thanks to Namshi's online store, you can just easily order your little girl a pair of her size right from the comfort of your own home.
This pair is currently available on Namshi online with a 15% discount, so you can get it for just 67 SAR. But you can save up even more if you shop using the Namshi coupon code which you can find on Yajny.com.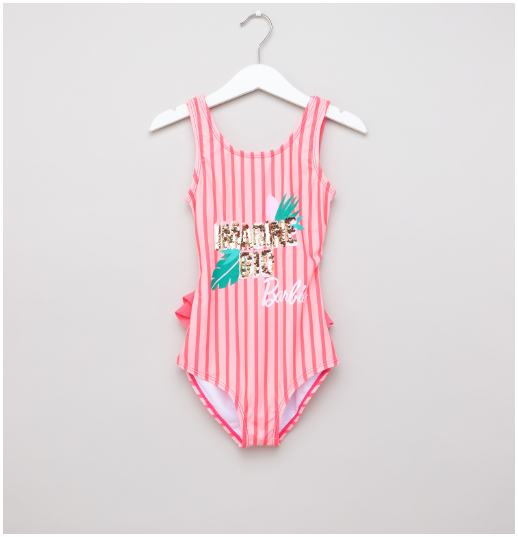 This Eid season is perfectly aligned with the summer vacation season, so your little will for sure appreciate a new swimsuit. And she'll appreciate it a whole lot more if you got her this Barbie print one-piece. This swimsuit gives you both style and comfort, its round neckline makes it easier to wear, the frill in the back gives it a trendy stylish look, and it's machine washable so you won't have to go through the trouble of hand washing it every day after your baby girl out of the pool.
You can find this piece in multiple sizes at Centrepoint's online shop for SAR 99, but you can save on it if you use Yajny's Centrepoint coupon and get an extra 10% off of your purchase. All you have to do is get on Yajny.com to get the coupon code and you're set to go.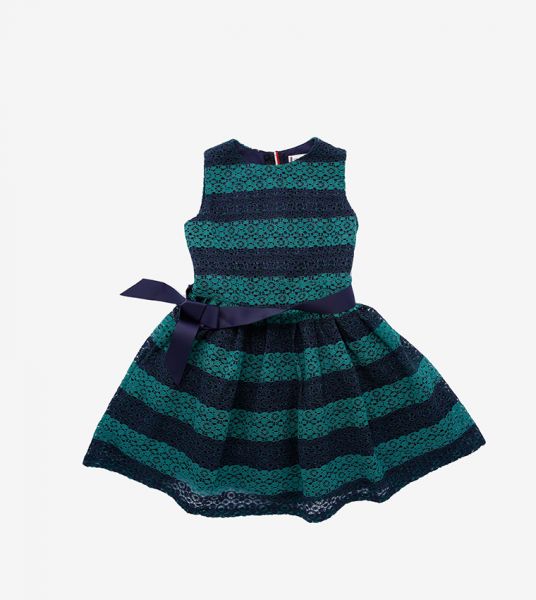 If you are a fashionable mom who truly appreciates the importance of high-end fashion, then you would want nothing less for little one. If that's the case, then this adorable Tommy Hilfiger floral lace dress is the perfect piece to introduce your young daughter to the beauty of high-end fashion. The lace fabric, comfy cut, and simple yet elegant style make this perfect for Eid long days because it will keep your girl comfortable as well as stylish all day long.
You can get this classy number for your daughter from 6Th Street's KSA online shop with a 40% discount at SAR 360. And if you use Yajny's 6th Street coupon code, you'll get an extra 10% off, meaning that you'll pay half of the dress's original price.
These are some of the kids' clothes deals that you can find through Yajny. You can find more deals and more options in more brands if you go on the website.
Hurry up and get your little ones the Eid outfit of their dreams, and don't forget to let us know in the comments which item stole your little one's heart.