On November 11 of each year, the day that is also known as 'Singles Day', the world comes together to celebrate the single people of the world, boys or girls. Other than the social and individual celebrations, what is known to steal the spotlight on that day are the celebrations on the marketing and economic level as it is a very special day, shopping-wise, as offers and shopping deals are known to increase on that day and last for a whole week, making this particular time one of the hottest sales and discount seasons of each year.
This day is an opportunity for everyone who celebrates without a partner to pamper themselves and enjoy a day devoted to them and only them as stores adopt the idea 'If there is a Valentine Day's season on which we offer lovers the best shopping deals and discount to make them happy, why not celebrate singles in the same day!'
Some of you may have only recently known about Singles Days as it is not as famous as Black Friday or Amazon Prime Day, for example. And this is why we have compiled for you a series of offers offered by one of the leading online stores in the region, 'AliExpress' to help you reach the maximum level of savings while shopping. This year, Singles Day comes on Wednesday the 11th of November but we expect the Singles Day offers to continue until the end of the week or even the following week.
Singles Day 2020 offers from AliExpress will give you great discounts on home appliances, electronics, telecom collections, accessories, as well as many categories of products and goods on this giant everything shop.
In terms of personal electronics, you can expect offers on smartphones from Xiaomi Pocophone, Xiaomi Redmi, OnePlus, and Huawei, along with some new brands offering devices for limited budgets.
There are loads of deals on Bluetooth headsets, earphones, and wireless speakers. As usual, power banks, cables, and PD chargers for phones and tablets will be abundant.
Xiaomi and others are likely to have offers on electric scooters, as it seems that they are becoming more ubiquitous.
Smart lighting devices and LED lights will also be common, and smart home appliances in general – such as security cameras, doorbells, thermostats, and locks.
As mentioned, audio devices, RavPower, and chargers will come with special offers, and expect discounts on Aukey, UGreen, and Anker items including headphones, chargers, and cables.
You will also have discount shopping options from Ustellar Novostella and Govee that are great for lighting, smart lights, premium outdoor lights, and smart devices.
Now, let's take a closer look at the hottest Singles Day deals you will be seeing on AliExpress this year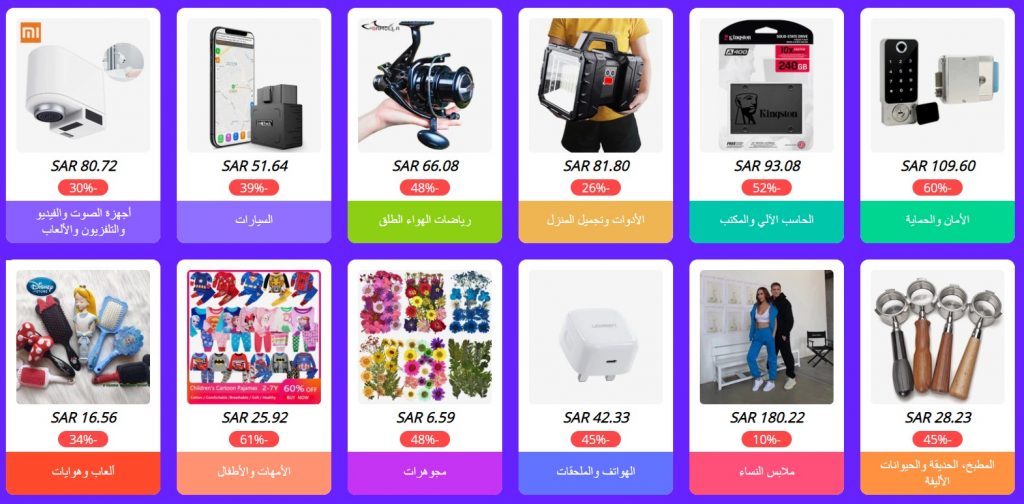 What is the sales volume of Singles Day around the world?
As mentioned, shopping on this exact day in November is very much active. In 2019, the e-commerce giant Alibaba reported that it sold $ 1 billion worth of goods in just the first 68 seconds of the day and $ 12 billion in the first hour of that day. To put this in a clearer context, the combined total of Black Friday and Cyper Monday sales in the US was just over $ 14 billion.
So… WOW!
How to prepare for Singles Day?
Singles Day is still relatively new to the Gulf region and the Middle East in general, so it won't be as crowded as Black Friday or as some call it 'White Friday', but you'll need a plan of attack to be able to get what you need with great prices and before it runs out. So here is what you should start with:
Make a list of the things you want or at least get an idea of ​​the brands and products you want. Otherwise, you will lose yourself in AliExpress's countless categories and products.
Check out Yajny.com deals, as our shopping offers platform seeks to give you the best deals for shopping from AliExpress, with priority given to big-name brands – such as Huawei, Xiaomi, Lenovo, Asus, Anker, Baseus, and UGreen.
Clearly specify what you want, and take a look at Yajny to find out if there are any offers that can help you get what you need at a much lower price, such as the exclusive AliExpress cashback.
What is Yajny's AliExpress Cashback
AliExpress cashback is an exclusive promotional service provided by the online store AliExpress in cooperation with the Yajny.com platform for shopping offers. The way this service works is that cuts out a certain percentage of the total of your spending, then gives you back that percentage in the form of a cashback balance which gets deposited in your Yajny account so you can withdraw it later using any of the methods Yajny made available for you and listed on its terms & conditions page.
So in a nutshell, this service gives you money, basically, in exchange for your shopping. As for each and every purchase you make from AliExpress through Yajny.com, you get a cashback balance in your Yajny wallet. So, for example, if you buy a product that is priced at 100 SAR, and the cashback percentage Yajny provides is, for example, 35%, then 35 SAR will be refunded to your Yajny account when you make the purchase through Yajny. This represents a golden opportunity to double your savings during this Singles Day discount season as you get to enjoy earning a cashback balance on your purchases and you get to save on your purchases' cost thanks to the initial offers and discounts the website is providing in honor of Singles Day 2020.
As to how can you benefit from your cashback balance later, it is really quite easy, all you have to do is check Yajny's terms & conditions page for the available methods and tools you can use to withdraw your earned cashback money.
8 Professional Tips & Tricks on how to make the best out of 2020 Singles Day Offers
Set a budget
Make lists of the items you want
Make sure you are registered to Yajny.com
Update your Yajny profile
Compare prices
Check the value of the cashback offer
Filter your search by favorite brands
Read seller's policies regarding returns, shipping costs, etc.
Note: All the hottest and most popular deals AliExpress is offering on Singles Day do not contradict with Yajny's AliExpress cashback service. On the contrary, whenever you use Yajny's website or mobile application to make a purchase from AliExpress, you get to enjoy an additional discount, on top of that offered by the store itself in honor of Singles Day.
So go wild shopping for all your favorite things, AliExpress and Yajny has got your back!