Blond hair may sometime steal the spotlight since it literally catches the light more than darker colors, but brunette hair has an unmatched richness and elegance about it that that can't be rivaled. Contrary to popular beliefs, brunette hair goes with more colors and styles than lighter colors, and the reason is that brown and black complements its accompanied looks without stealing focus from them, so it gives you a bigger room to play with different styles, shades, and colors without having to worry about looking too extra or over the top.
If you are wondering how you can make the most of your beautiful dark locks, keep reading to see our color guide for brunette hair which includes everything from bold to pastel colors, different style inspirations and looks, where you can get them, and also how you can get them cheaper.
So, let's dig in!
Classic: Navy Blue
This may not be the first color to pop into your mind, but the dark and traditional shade of Navy blue perfectly complements the richness of brunette hair elegantly and subtly without looking too harsh or stealing the focus of your beautiful locks.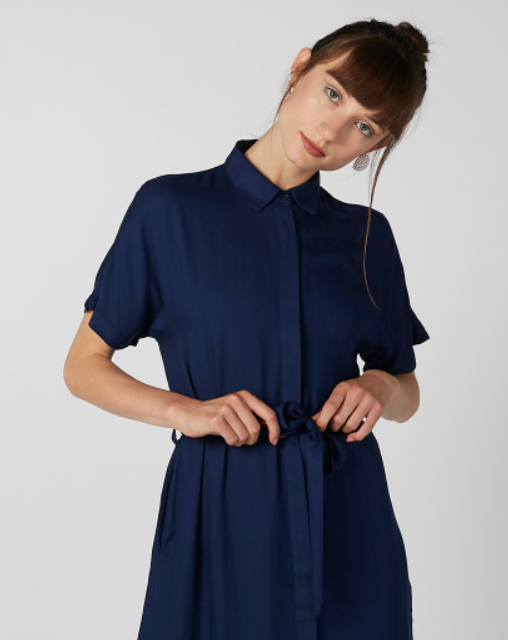 You can shop this understated chic look from Splashfashion.com, but don't forget to check Yajny's Splash offers to get it with a discounted price!
Neutral: White & Cream
This comes as no surprise, dark and brunette hair is the perfect counterpoint to white and cream colors, giving a bit of an improved polish to the timeless and classic black and white look. The perfect bonus point is that it looks equally as stylish and -might we add- gorgeous on ALL skin tones alike.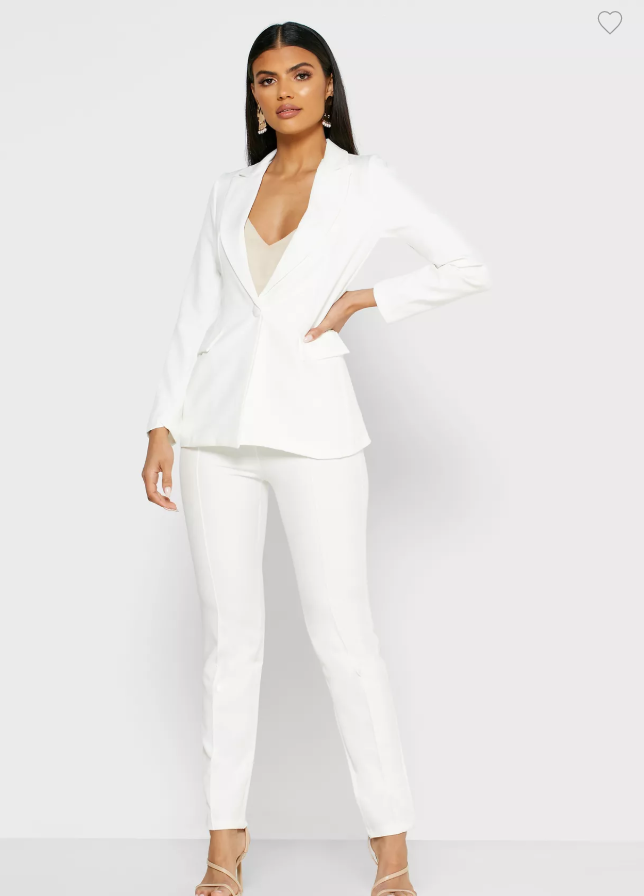 You can get this look for 183 SAR from Namshi, but you'll get it even cheaper if you use Namshi's coupon code which Yajny offers.
Primary: Red
Tale as old as time; no one can rock red better than a brunette, it is just the fact of life. The firey tone of red fabric complements perfectly the warmth of brunette and dark hair. Red also helps bring out that burgundy tint most brunettes have in their hair which is another reason why this is just a dream pair.
Helpful but not really new hint: Red looks extra gorgeous in evening gowns, so if you are a brunette who has never taken the risk of wairing an all-red dress to a ball of a party before, now is the time to start. And also, what have you been waiting for all this time!!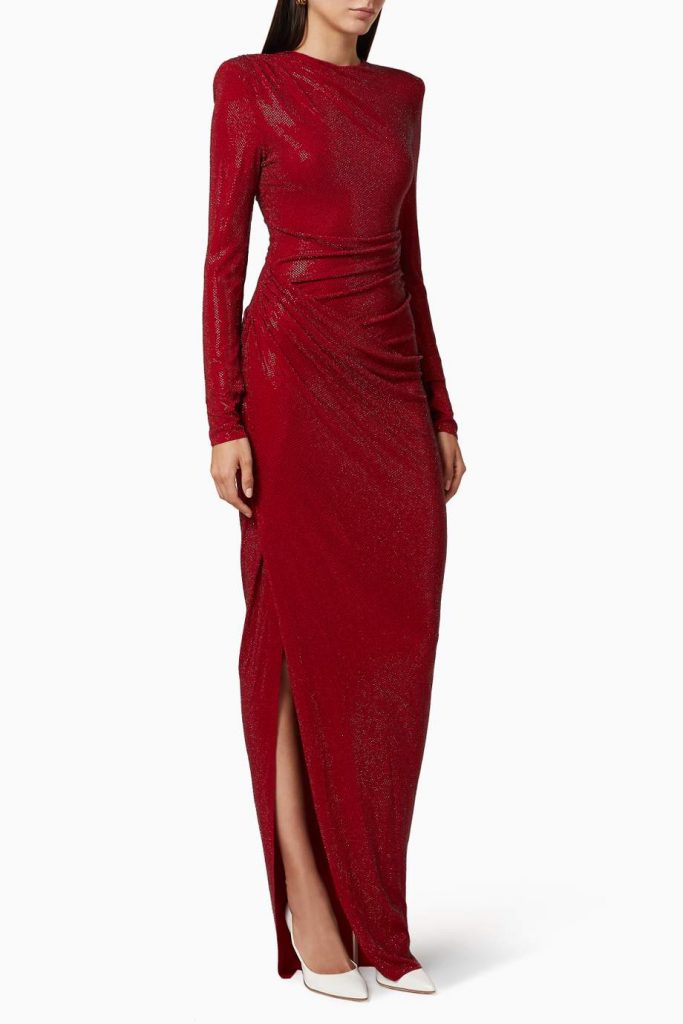 You can get this stunning red number from Ounass, and if you do so through Yajny, you'll get it at much cheaper than its original price thanks to Ounass cashback service and coupons Yajny offers.
Pastel: Light Yellow
Light yellow is the perfect summer go-to color for brunettes, the warmth in the yellow goes perfectly with warm dark shades and the contrast between the two colors helps your skin tone pop and look more tanned, which is perfect for the summertime.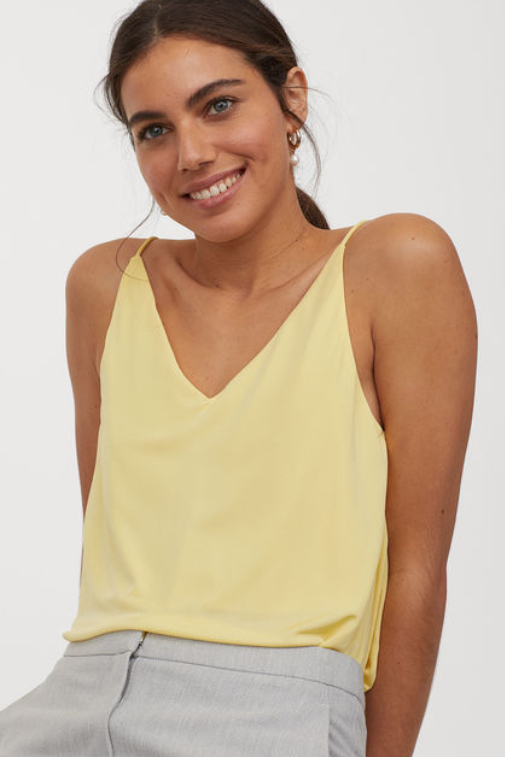 You can get this V-neck basic top from H&M's store for 85 SAR, but you can get over 20% discount if you shop through Yajny and take advantage of the H&M cashback and coupons Yajny offers.
Bold: Hot Pink
You not have known that, but having brunette hair gives you a pass and a license to not only get away but also beautifully pull off bold hot hues such as hot pink. Your dark hair tones down the brightness of bold color making it look more elegant and youthful than over the top of extra.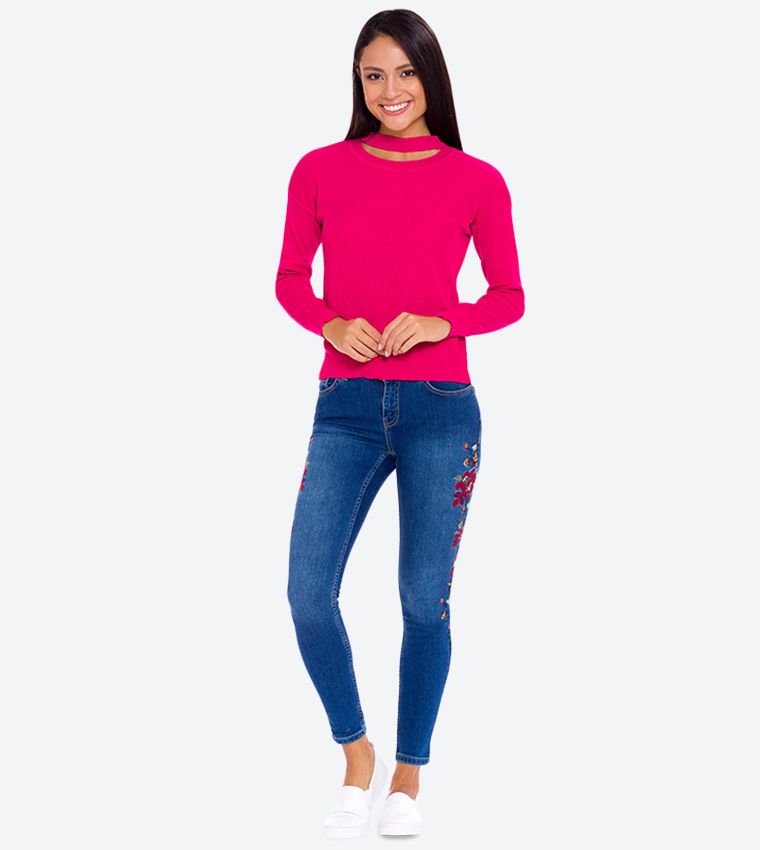 You can shop this look from 6th Street and get it cheaper than its original price 6th Street Coupon which is available here.
Now that you know what colors go best with your gorgeous dark hair, it is time to start doing some styling to create new and fresh looks for your beautiful elegant locks. 
Remember, if you are a brunette who prefers a color or two that we didn't mention in our guide, feel free to help us out and let us know in the comments with some new colors recommendation so that we could help other gorgeous brunettes like yourself. 
Thanks in advance!